Are you looking for jet ski prices? Once you've established that you've got to get a Kawasaki watercraft, it's time to pop the question, "How much does a jet ski cost?"
If you are looking for other brands might be interested in the new Waverunner or Sea-Doo prices.
Understandably, you will figure out that watercraft prices and maintenance costs differ from one model to the next.
Although Sea-Doo offers the most affordable models on the market there are several Waverunners in the same price range.
From the modestly priced STX-15F to the most expensive Ultra 310LX, jet ski prices vary wildly.
The price of a watercraft has much to do with its build quality, performance levels, and all of the other extra features that make it unique. The manufacturer and model also play an important role in its pricing.
Sea-Doo, Waverunner, and Jet Ski Prices 2019
To make your decision easier, all current Sea-Doo, Waverunner and Jet Ski prices were collected in one chart. This would help you decided the best one that fits in your budget.
For a more detailed side by side comparison of all the different models, specifications, and prices, be sure to make use of our Sea-Doo vs Waverunner vs Jet Ski comparison tool!
Click on the header to sort the list by manufacturers or price!  Don't miss to discover each model following the links in this chart.
Sources: www.yamahawaverunners.com, www.sea-doo.com, www.kawasaki.com
To give a better overview, we've summarized the information above into this detailed infographic:
Sea-Doo vs Waverunner vs Jet Ski Comparison
There are 4 major categories in which PWCs are divided. Don't hesitate to discover the categories here:
Luxury and Performance PWCs are typically the most expensive watercraft categories. On the other hand, Recreation models are generally more affordable.
Sea-Doo has other special categories like "Tow Sports" and "Sport Fishing".
Tow sports, for instance, is a watercraft designed and equipped specifically for tubing, wakeboarding, or any other form of tow sports.
Performance category
Performance PWCs – as the name implies –are the fastest models with supercharged engines. These are the sports cars of the PWC industry, and this easily tells on their hefty price tags.
They reach higher top speeds, maneuver better, and accelerate faster than other types of watercraft.
These models have their engine to blame for their hefty price tags, yet they are the first choice for power sport enthusiasts and adrenaline junkies.
Performance models are also quite expensive to maintain due to their more expensive, high-end performance parts, and their higher fuel consumption levels.
However, if you are a speed junky with a deep pocket, extra maintenance costs should be no problem for you.
Luxury category
Performance PWCs are definitely the most powerful machines around but Luxury models are not very far behind.
These watercrafts often hit the same levels of top speed and acceleration attained by performance engines.
However, they are sometimes heavier, slightly less responsive, and a little less agile in operation. This is credited to their bigger sizes and different hulls designed to make your rides less bumpy.
Luxury watercrafts, though, are pure class. These models are known to come with an array of extra features that makes them more stylish and comfortable.
For most riders, these extra features go a long way to justify the hefty price tags on them.
Recreation / Rec-Lite Category
Often classed together, these are the most common PWCs you'd find anywhere. Thanks to their affordability!
Rec-Lite, as the name suggests, is typically smaller and lighter on the features' side than regular recreation watercrafts.
While they are both some distance behind their more luxurious counterparts above, they are solid enough to meet the needs of many riders.
Recreation models are a great way to get your first feel of running a PWC. Their light features favor beginner riders who are still getting used to the machine.
They are also probably the best models for beginner riders.
Recreational models give beginners an opportunity to decide on which extra features they'd love their next PWC to include should they choose to upgrade.
However, many riders have found the responsive and agile nature of these crafts a delight, and have stuck with them long after their beginner years.
Stand-Up PWCs
Almost in an exclusive world of their own, the Stand up category is unique.
Unlike other categories, these crafts are operated in a standing position.
Stand-ups are more engaging and athletic, needing you to stand up while it is in operation. This could get pretty challenging for a non-athletic fellow because there is no sitting arrangement.
They are typically smaller in size, weight, and cheaper in terms of cost.
Stand-ups are strictly solo jets that do not allow for shared experiences with family or friends. They are also inadequate for long distance cruises or tubing.
Prime examples of this category are the Yamaha Superjet and the Kawasaki SX-R and models from Krash Industries.
Kawasaki Jet Ski Prices
You can find all of the 2019 Kawasaki jet ski prices and models here. 
The Kawasaki brand is well known for their powerful engines and luxurious features.
This is evident in their high-powered street bikes, motorcycles, and dirt bikes. It is this same luxury and power they bring into the watercraft industry.
Kawasaki jet ski prices are generally slightly higher than those of other manufacturers, but their models are just as high in quality and performance levels.
Sea-Doo Prices
You can find all of the 2019 Sea-Doo prices and models here. 
Sea-Doo watercrafts are known for combining solid quality with low, affordable prices.
While Sea-Doo's low priced watercrafts are very much attractive, they also offer a wide range of luxury and performance models.
They boast an impressively long line-up of watercrafts, with 21 models in their ensemble – the largest of any major manufacturer. One of the very first watercraft manufacturers ever, Sea-Doo has built a massive following over the years.
They have also been one of the more active brands, constantly adding new models to their list and refreshing their offers regularly.
Yamaha Waverunner Prices
You can find all of the 2019 Yamaha Waverunner prices and models here. 
Like Kawasaki, the Yamaha brand is a major player in most power sports categories.
As old-timers in the industry, it is no surprise that their machines are some of the most reliable ones on the market.
They also have a fairly large line up of PWC models under their wings, including a stand-up model in the form of the Yamaha Superjet.
Yamaha is loved by many riders and rental services for their low-level maintenance needs.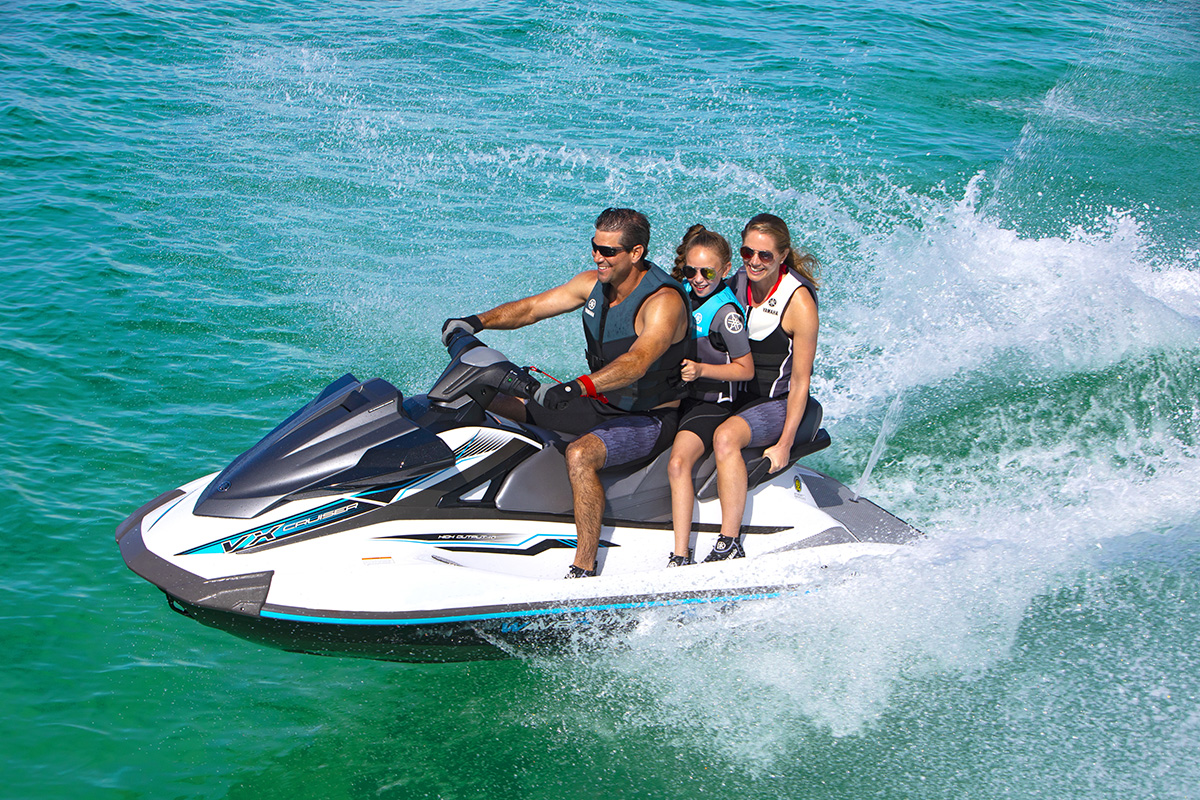 PWC Maintenance Costs
Take note that beyond the primary purchase price of a watercraft, you will also be faced with several other initial, running and maintenance costs.
These costs include everything from the extra equipment and accessories needed to properly run your watercraft to the cost of insurance, storage, fuel, and maintenance. Be sure to account for these when considering the cost of owning and running a PWC.
Takeaways
As you can see, Sea-Doo, Waverunner and Jet Ski prices vary wildly. For the most part, these prices depend on the category of the model you are purchasing.
It's good to know that prices may vary over the year so timing is also important.
Sea-Doo has a reputation for providing models for a wide range of customers while Yamaha is well known for its durable and reliable engines.
With all options wide open in front of you, I believe now you will be able to make the best decision regarding your purchase.
Performance and luxury models are known to be typically more expensive.
Likewise, due to their focus on luxury and performance models, Kawasaki jet ski prices are in the highest range in each category.
Are you interested in more detailed specifications of each model? If yes, feel free to use our Sea-Doo vs. Waverunner vs. Jet Ski comparison tool.
If this will be your first ever purchase, we highly recommend getting a feel of different models and makes by renting some PWCs for experimentation.
Take advantage of our infographic rental guide and watercraft rental locator tool, to ensure that your rental experience is smooth and seamless.
Did you enjoy what you read here? Don't forget to share this post with your friends!
Become a fan on Facebook
News, reviews, videos and more…