Yamaha SuperJet Review: Top Speed, HP, Weight, Specs [Video]
You might find it hard to believe, but Yamaha SuperJet and Kawasaki's stand up Jet Ski models have been each other's rivals for two decades!
Today we are going to take a deep look at these competitors, and observe how it all began. You are going to read a comparison of the current two models according to their specs, prices, and everything else.
Many new names such as (Honda, Polaris, Artic Cat)  have entered and exited the new PWC manufacturer industry, but it looks like Yamaha is here to stay, providing quite an amazing variety of several good watercraft.
Sadly, Sea-Doo has discontinued stand up models at the moment, but we are going to talk about Krash stand up watercrafts in this article.
Due to their unique style, stand-up models are still popular on the market. You can easily move, store, and launch these watercraft.
Usually, they have lower price tags and maintenance costs than other "sit down" type watercraft.
The main reason behind their popularity and why they are a favorite of many PWC enthusiasts is that the watercraft allows the rider to be playful and let them ride the craft stylishly with complete agility.
Before we dig deeper into this Yamaha Superjet review, lets head back a little and see how it all began!
History – How it started
Yamaha SuperJet vs. Kawasaki Stand up Jet Skis
If you would like to have a deeper understanding of how deep this rivalry is, you would have to jump back a couple of decades. If you are truly interested, read below to know more and how these two competitors were invented and raced against each other.
1972 – Kawasaki released their first stand-up Jet Ski this year, and this is when it all started. The WSAA and WSAB happen to be the earliest models. They are powered with 2-stroke, 400 cc twin cylinder engines. The original name of the models were "Water Jet" and "Power Skis" before Kawasaki merged the two names into "Jet Ski".
After this, Kawasaki rose as the market leader of the PWC industry and remained at the top for many years. They improved their Jet Skis continuously and added new models into their line up.
1986 – Yamaha entered the market this year, and it was a turning point in the PWC industry. The company emerged in the market, introducing its first "sit down" watercraft, the MJ500.
1990 – Four years later, in 1990, Yamaha released the first SuperJet, the SD650D, with 650cc, 50 HP single carb. engine. This was the start of the competition between the stand-up models.
1995 – Kawasaki released the 750 SXi (JS750-B) in 1995. This model was the first stand-up Jet Ski with a dual carb engine.
1996: Yamaha introduced its second-generation Yamaha SuperJet, the SJ700AU, with 73 HP dual carb engine this year.
2003 – This was the year when the extremely popular SX-R 800 Jet Ski (JS800A) was released by Kawasaki. The model arrived with a 781 cc, 2-stroke, and 80 HP engine. Kawasaki also began to use fiberglass reinforced plastic (FRP) for the SX-R's hull.
2011 – Due to the US EPA restrictions, Kawasaki has released its final two-stroke stand-up this year.
From 2011-2017, Kawasaki didn't manufacture any stand-up Jet Skis, but "sit down Jet Skis" only, with more rider capacity for comfortable accommodation.
2017 – Kawasaki reintroduced their stand-up Jet Ski, the SX-R this year. This model came with a bigger hull than the early model, and it weighs 550+ pounds. But the core difference lies beyond the dimensions. The new Kawasaki SX-R model is already powered by a 4-cylinder four-stroke (160HP) engine.
Other Competitors
If we are comparing stand up personal watercrafts, we cannot possibly do so completely without mentioning the freestyle/freeride PWCs from Krash.
Nick Barton, the CEO and President of Krash Industries, was able to recognize and realize the customer's frustration and the reason for their annoyance when they had to create their custom watercraft based on aftermarket hulls. Seeing all this, Nick decided to create a complete ready-to-go watercraft for the customers.
Today, Krash offers 5 different PWCs to the customers, want to take a look? Discover these amazing watercraft here!
And the good news is that these models are available in the U.S. as well!
Another renowned name in the manufacturing industry of custom freestyle watercraft is of BLOWSION. Apart from custom models, BLOWSION offers all kinds of custom services such as custom painting, and selling a huge variety of aftermarket watercraft parts, upgrades, and accessories.
2020 Yamaha Superjet Review
2020 Yamaha Superjet Price Tag
We, at JetDrift, have gathered all the available stand-up watercraft for you in one place. You can discover and compare the price tags of all competing models in this chart below.
If you would like to learn more about these models, don't hesitate to click on the name of the models. Specifications, pictures, videos, and head by head comparisons are available through the links!
When it comes to costs, 2020 Yamaha Superjet price tag is the smallest. You can purchase this PWC just for $ 8.699 only. As for the price of Kawasaki SX-R, it is still in the four figures and is available for $ 9.999.
Krash models are available for $ 12.599, except foot rocket pro, which costs $ 16.799.
Yamaha Superjet Top Speed and Performance
Performance numbers
Any PWC buyer's main concerns are the performance numbers and engine specs. And these factors are of significance in case of stand up watercraft because these are offered manly for race and sport purposes.
Sit-down type of watercrafts are a lot more suitable for recreation purposes and family excursions. Apart from Yamaha Superjet top speed and performance specs, you can find the same numbers from the competitors in this chart:
Engine Specs
The main difference between the models is that Kawasaki SX-R powered with a 4-stroke engine, while the other models still use 2-stroke engines. Unfortunately, Yamaha Superjet 4 stroke version is not available on the market yet, as this model still comes with 2-stroke engines.
All of the models have naturally-aspirated (non-supercharged) engines, and cooled with an open-loop cooling system.
When it comes to the engine specs like Yamaha SuperJet horsepower, it has the lowest performance in the Stand up category, only 73 horsepower. This performance comes from a 701 cc, 2 cylinders, 2-stroke engine. You can reach around 45 mph top speed on this model.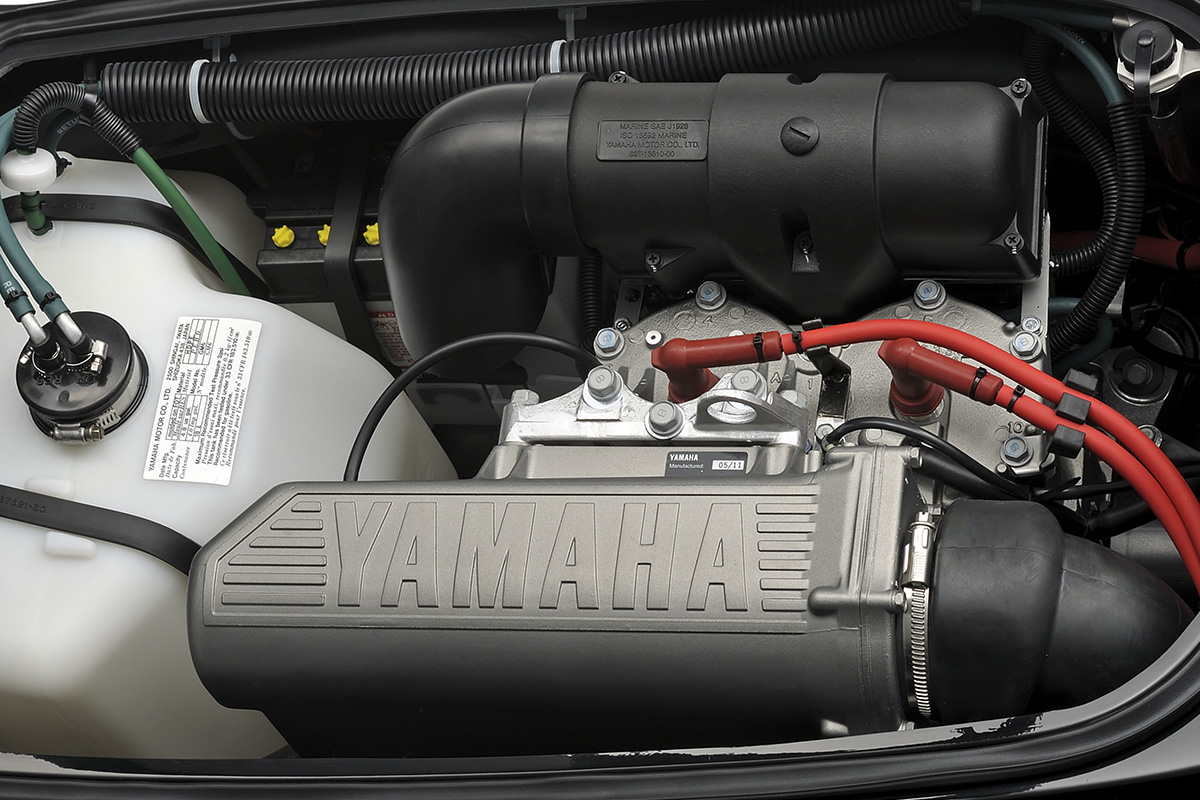 Its competitor, the Kawasaki's 1498 cc, 4 cylinders, the 4-stroke engine offers unbelievable 160 HP, which tends to be an outstanding performance in the stand-up category. You can find the same pump and engine in the STX-15F, and the new STX 160 Line, what are the cheapest Jet Ski models available in the market right now.
You can expect around 62 mph top speed with this engine although it comes with a bigger hull and more weight.
All of this leads us to the PWR (power to weight ratio), which are crucial factors along with top speed and horsepower numbers. Our comparison review cannot be complete without it. Owing to its powerful 4 stroke engine, the SX-R has a lot of weight. So much so, that the power to weight ratio (0.30) is close to the Yamaha Superjet's (0.24).
Meanwhile, all of the Krash models feature the same 997 cm, 2 cylinders, 2-stroke KV997 engines, which offer 130 HP, with an outstanding 0.40 – 0.48 power to weight ratios and 46 mph top speeds.
Yamaha SuperJet dimensions and weights
This Yamaha SuperJet review wouldn't be complete without the main dimensions. This chart below contains each model's dimension and weight specifications:
SX-R is quite long if we compare the hull dimensions which stand at 104.5", on the other hand, SuperJet happens to be 16" shorter and less bulky than SX-R. You can see the differences more clearly in the pictures.
We are going, to begin with, the Superjet to the SX-R:We are going to begin with the Superjet to the SX-R:
And now, we are going to compare these two models with Krash Footrocket together in one picture:
When it comes to widths and height numbers, there aren't many differences to point out. As a rule of thumb, these numbers usually lie between 30".
As far as the weight is concerned, it looks like the Yamaha SuperJet and Krash models are almost of the same weight of approx. 300 pounds. Whereas, the net weight of SX-R Jet Ski is about 500 pounds.
The main difference comes from the SX-R's bigger hull and four-stroke engine. If we compare the curb weights, then the difference becomes more significant, due to the SX-R's larger fuel capacity (6.1 gal). As it's a 4-stroke, we have to add the weight of 1.3 gallons of oil as well.
Yamaha SuperJet fuel capacity is 4.8 gallons, while Krash's tank sizes are really close and have them look as if they have the same capacity, it's 4.75 gallons.
Basing on the dimensions and weights, we conclude that if you like nimble and playful attitude, the SuperJet or any Krash model would be perfect for you. If you are looking for more stability and the highest top speed, you should take a look at SX-R instead.
Yamaha SuperJet Additions and Modifications
Many owners to whom performance is a big deal, are inclined towards the SX-R and Yamaha SuperJet's available and possible modification opportunities.
You can find a variety of different parts, which you could use for modifications available at the aftermarket shops. The choice, of course, depends on your goals and budgets.
The easiest way and very low on budget option would be if you don't require more power out of your engine. You can change and adds parts like freestyle cones, bars, ride plates, and intake grates along with many others. These parts are usually easier to replace and mean smaller costs.
If you would like to upgrade to the engine as well, it is another dimension in working hours and in the budget as well. Unless if you are an experienced PWC mechanic, it's recommended that you get it done by a professional service shop.
If you don't want to get the part together one by one, a complete upgrade kit is available like the SuperJet RPM KIT, from Riva Racing. With this kit, you can expect a 52-53 mph top speed.
Riding experiences
Yamaha SuperJet riding experience
Compared to its rival, the SX-R, the Yamaha SuperJet is significantly smaller and lighter in weight. It means that the watercraft can deliver more agile and playful rides, as well as sharp turns and quick response.
On the other hand, you would find the SuperJet less stable, especially, at high speeds, or when you are making a turn. So, you can expect more falling and restarting while riding this craft. It implies that the learning period would require a great amount of commitment; as it is possible that you would have to swim to get back on the craft multiple times. But once you've mastered it, you could perform some amazing tricks even with a stock SuperJet.
Kawasaki SX-R riding experience
With the large hull and weight, the rides on the SX-R are stable and smooth to ride. You can start easily with this craft on your knees, while it won't sink or overturn. So if you are a beginner you will appreciate these features:
But on the other side, this bigger hull does not offer the same nimble and playful attitude like the old stand up jet skis. More stability for less nimbleness, something for something. Even if you want to ride at top speed around 62 mph, or do fast slam turns, the SX-R will pretty stable in any condition.
Krash PWC riding experience
Is there any way you can increase the fun? Enhance the playfulness of the watercraft? Krash Industries gave it a shot and have been successful.
They manufacture watercraft that are lighter and smaller compared to the SuperJet even. What's more, these crafts are extremely nimble. Riding them is not a piece of cake, and it's not for the beginners!
But if you are an experienced stand-up rider, you should watch this video:
Yamaha SuperJet for sale
Based on the above features and specs, maybe you've made your decision in the favor of SX-R or the SuperJet. You know better which one is right for you.
If you are looking for a Yamaha SuperJet for sale, you can choose from a wide range of Waverunner dealerships nationwide. Before you purchase, don't miss a test ride, as dealerships usually offer demo days for this purpose.
Due to U.S. EPA restrictions, you might hear some rumors fall on your ears about SuperJet being available just for racers. These are nothing but false gossips. But you could certainly legally use and purchase one. You just need to get an IJSBA (International Jet Sports Boating Association) competition card. You can request this card from your dealership or at the official IJSBA site.
If you would prefer a used Yamaha SuperJet instead, you can look around at Craigslist, eBay, or PWC Trader. You might also find second-hand Krash and Kawasaki models there.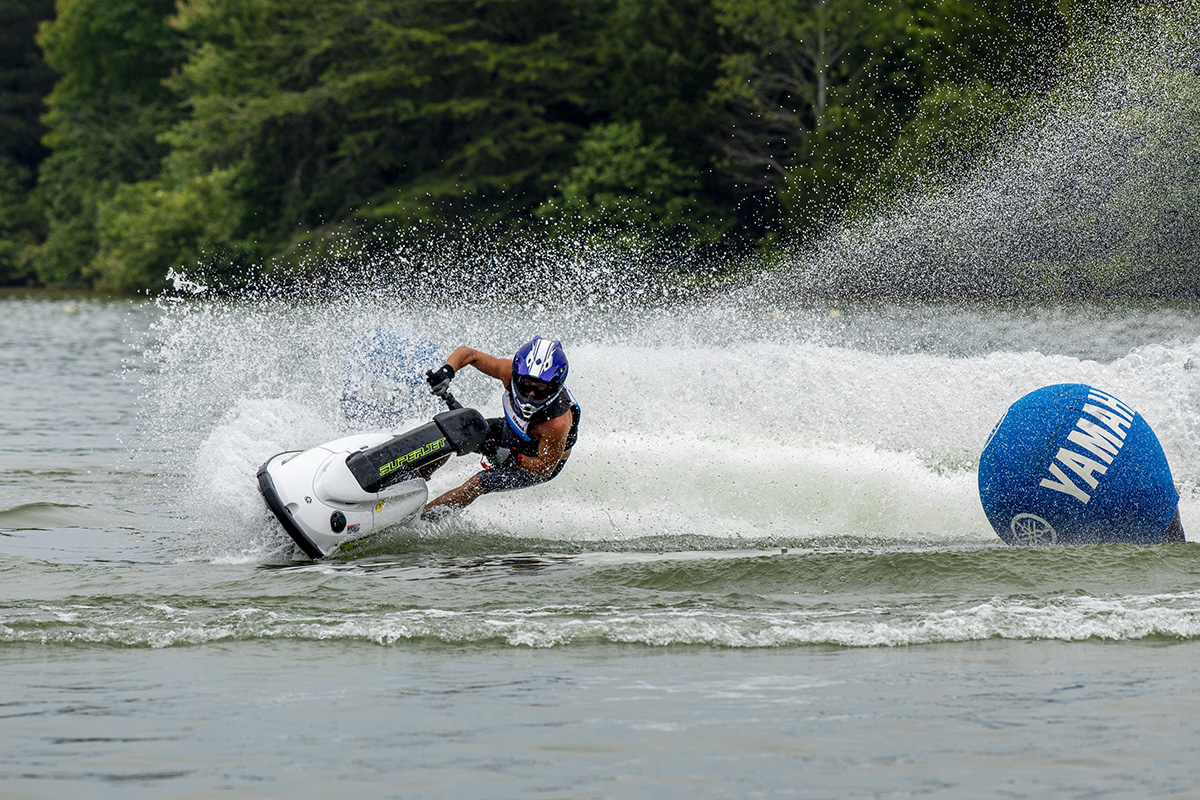 Final Thoughts
The feeling of riding a stand-up PWC is indescribable. One cannot measure those emotions in numbers and how it makes one feel to ride the different stand-up modes.
As for the reasons for going with a certain model, it never boils down to the hull dimension or horsepower only. There are tons of factors you have to take into consideration. All of the models come with their pros and cons!
If you are a beginner and looking for a stable hull for learning the basics, the SX-R is an ideal option for you. This model also offers the rider with the highest top speed, around 62 mph, so any speed junkies out there? This is the one for you.
Meanwhile, you should also know that in case of stand up watercraft, high top speed is not everything. Yamaha Superjet and Krash watercrafts all feature much less weight and smaller hulls. Krash's two-stroke engines still have the best power to weight ratios.
So, if you already have some experience at hand, and prefer a nimble and playful attitude of the watercraft, you are not going to be disappointed with these choices. If you are looking for freestyle tricks or even participate in competitions, you could make a pick from any of these models.
This was our short 2020 Yamaha Superjet review, we hope you find it useful!
DISCOVER 2023 PWC MODELS Kawasaki, Sea-Doo, Yamaha, Krash…