Jet Ski Horsepower Specs vs. Sea-Doo vs. WaveRunner 2023
When it comes to personal watercraft, a great deal of attention is put on the performance specs. Just about every PWC enthusiast wants to check the current Yamaha Waverunner, Sea-Doo, and Jet Ski horsepower chart.
But is it the only important factor affecting your PWC's performance?
Surprisingly, the power-to-weight ratio is just as significant.
In the word of PWC enthusiasts, as in any area of motorsport, there are several numbers to keep in mind when choosing the right machine for you, including top speed and acceleration, gas consumption, purchase prices, and maintenance costs.
Today, however, we will focus on performance specifications.
For your convenience, we've collected the current 2023 Sea-Doo, Yamaha Waverunner, Krash, and Jet Ski horsepower in the chart below.
2023 WaveRunner, Sea-Doo, Krash, and Jet Ski Horsepower Chart
If you'd like you can sort the rows by clicking on the header. Curious about a specific model?
Click the model name to find additional specifications, pictures, videos, and comparisons!
* Disclaimer: This chart is for information purposes only. Sources: www.yamaha.com, www.sea-doo.com, www.kawasaki.com, www.krashindustries.com
How Much Horsepower Does a Jet Ski Have?
How much horsepower does a jet ski have?
Stock jet skis have 60-310 HP engines depending on the make and the model. The non-supercharged (naturally aspirated) jet skis typically produce 60 -180 HP, while the supercharged models offer 230-310 HP.
What is the average horsepower for a jet ski?
Jet skis can produce an average of 100-150 HP, within the 1,000-1,800 cc non-supercharged engines. The Rec-Lite category offers the lowest horsepower ratings of around 60-100 HP, while the Performance jet skis are powered with 230-310 HP supercharged engines.
What jet ski has the most horsepower?
The Kawasaki ULTRA 310 jet skis offer the most horsepower on the market right now, as these jet skis are powered with 1,498cc, four-stroke, supercharged 310 HP engines. You can discover and compare these jet skis here.
Before we dive deeper into horsepower specs, let's take a moment to understand exactly what horsepower is and where the term comes from!
What is Horsepower?
When it comes to PWCs like Sea-Doo, Jet Ski or Yamaha Waverunner horsepower is one of the most commonly shared specs.
But what is it exactly, and why does it matter?
The original definition is exactly what you would imagine it means: the power exerted by a horse when it is pulling something. It does, however, also carry a very specific meaning, which is the most useful definition for us today.
In the United States, horsepower is a unit of power equal to 745.7 watts.  
In England, horsepower is defined a bit differently, but the actual measure is almost equivalent.  
Horsepower was originally calculated as the power needed to raise 550 pounds a distance of 1 foot in 1 second
or the power needed to move 33,000 pounds a distance of 1 foot in 1 minute.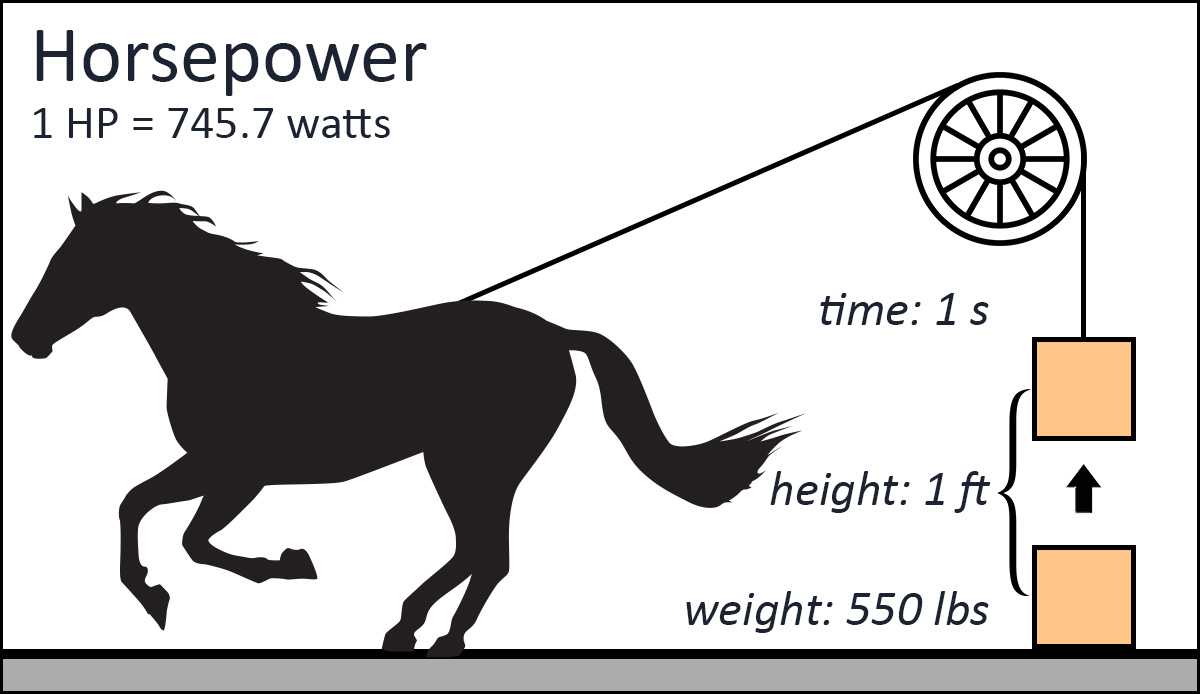 Phew!  Confused?  
Let's consider a simple example of a horsepower calculation using the US measure. As you are already aware, 1 horsepower unit is equivalent to 745.7 watts in the United States.
So if you took a 1-horsepower horse and put her on a treadmill, she could operate a generator producing a continuous 745.7 watts.
Sounds, simple enough, right? Imagine a machine with the strength of 2-horsepower on the same treadmill. It is able to power the same generator with double the effectiveness or 1,492 watts.
Now that's impressive!
Where Does the Term Horsepower Come From?
Surprisingly, the term horsepower has only been around since the mid-1700s.
It was created by Scottish engineer James Watt to help market his improved version of the first commercially available steam engine.  
Watt knew that he needed a unit of measure which the public could easily understand in order to be able to communicate the value of his creation.  
To formulate this unit, he looked to a book written by English inventor Thomas Savery in which he compared the work of cart-pulling mine ponies to an imagined machine which could consistently do the work of 10-20 of these ponies at a time.  
With this concept in mind, Watt formed a hypothesis that his steam engine had the same power as 10 cart-pulling ponies.  
Though the current unit of measure for horsepower is no longer equivalent to Watt's calculation, we are indebted to him for the creation of this useful term.
The original calculation was based on the strength of Savery's mine ponies, of the Shetland breed, and then doubled. Watt calculated that a horse had twice the power as the ponies.  
He found that, on average, a Shetland could perform at about 22,000 foot-pounds of work per minute. If a full-size horse was able to operate at 50% above that power, she could reach 33,000 foot-pounds per minute.  
Watts, however, underestimated the diminutive Shetlands. Though they are very small, Shetlands are actually much stronger than Watt calculated.
These ponies are able to perform at about .7 horsepower rather than .5, thus making Watt's calculations incorrect – hence why we think of it a bit differently today.  
Regardless of the error, Watt's term and the concept behind it have made it down through the centuries to appear today on the stats for your car or PWC.
Isn't that amazing?
Sea-Doo vs. Jet Ski Horsepower Competition
When you are considering purchasing a watercraft, performance is often one of the most important factors on your mind.  
That's where horsepower comes in. You want a super powerful PWC, and manufacturers know it.
Since the 1980s, manufacturers have been regularly increasing the horsepower of their machines year by year to serve the needs of the market and to annihilate the competition.
To see this progress in action, check out the chart below showing the increase in horsepower of Sea-Doo's flagship machine over the last few decades:
| Year | Model | HP |
| --- | --- | --- |
| 2016-2020 | RXT-X | 300 |
| 2010-2015 | RXT-X | 260 |
| 2009 | RXT-X | 255 |
| 2005-2008 | RXT | 215 |
| 2003-2004 | GTX SC/RXP | 185 |
| 2000 - 2002 | XP/RXX | 130 |
| 1997 - 1999 | GTX LTD | 130 |
| 1995-1996 | XP/GTX | 110 |
| 1994 | XP | 80 |
| 1993 | XP | 70 |
| 1991-1992 | XP | 60 |
| 1988-1990 | SP | 55 |
As you can clearly see, horsepower numbers skyrocketed from the late 1980s to today.  
Sea-Doo's most powerful models arrive with 310 horsepowers, a number which is over 5 times the HP of 1988. The amount of improvement is truly staggering. 
See the graph below to view this growth over time:
Sea-Doo Horsepower Chart 1990-2023
Current Top performance models
Yet, Sea-Doo family was not alone in striving for constant horsepower growth. Competitors joined the race, throwing resources at reaching maximum strength. The current top performance skis are:
Yamaha, however, simply ignores all this competition for horsepower and remain happy to stay well below Kawasaki or Sea-Doo's numbers. You might imagine this 250HP engine can't match Sea-Doo's or Kawasaki's top PWCs.
Think again.
Yamaha's best watercraft performance model is a top pick for racers and tuners. But how can this be when their engine is so much lower than the finest Kawasaki?
The Japanese manufacturer's 4-cylinder, 4-stroke, supercharged 1,812 ccm SVHO engine has a hidden benefit: it's highly receptive to modification. According to Kevin Shaw:
"This though, has not dissuaded performance enthusiasts, as the SVHO has earned its keep as one of the most reliable and warmly receptive engines to aftermarket modifications. Tuners have pushed the engine's boundaries to exceed 600-horsepower through ingenious means, including turbocharging, multiple-stage nitrous systems and even high-compression E85."
In addition to this incredible performance capacity, Yamaha's skis are legendary for their reliability and durability.
For these reasons and more, the majority of PWC rental services choose models from the Yamaha Waverunner family.
As important as the horsepower is, it's not the only factor to consider when it comes to engine performance. Power-to-weight ratio has a great effect as well.
What is Power-to-Weight Ratio?
In order to keep waterways safe, the US Coast Guard put in place a regulation limiting watercraft users to speeds of no more than 65 mph. Prior to 1999, there were no such rules in place and jet ski accidents were much more commonplace.
Manufacturers agreed to comply with the regulations, thus producing personal watercraft flagship models that all reached approximately this top speed.  
So how could manufacturers make sure their models stood out from the pack?
Surprisingly, one of the possible answers was in the weight of the watercraft. Because PWCs have grown bigger and bigger over the years, many performance models are now considered boats by many customers!
Though it may not be as flashy as horsepower, your personal watercraft's power-to-weight ratio is actually what determines a great deal of its performance.
A lower weight leads to better acceleration and a more nimble hull – hence it leads to a machine that's great fun to ride. Before you start having flashbacks to high school physics class, let us assure you that understanding this ratio is quite simple.
The power-to-weight ratio is the ratio
between the power output of the engine and the weight of the PWC.
Why does this matter?  Here are two examples to illustrate the point:
Picture a watercraft with 200 hp and a weight of 200 pounds. Because the horsepower and weight are the same number, the power-to-weight ratio is 200/200 which can also be expressed as 1/1 or 1.  
Now imagine the same machine with 200 hp and a weight of 400 pounds. Since we now have a machine with double the weight to power. Hence, the power-to-weight ratio is now 200/400, i.e. 1:2 or 0.5. This machine has the same power as the first but is twice as heavy.
Which PWC will perform quicker? Why the first of course!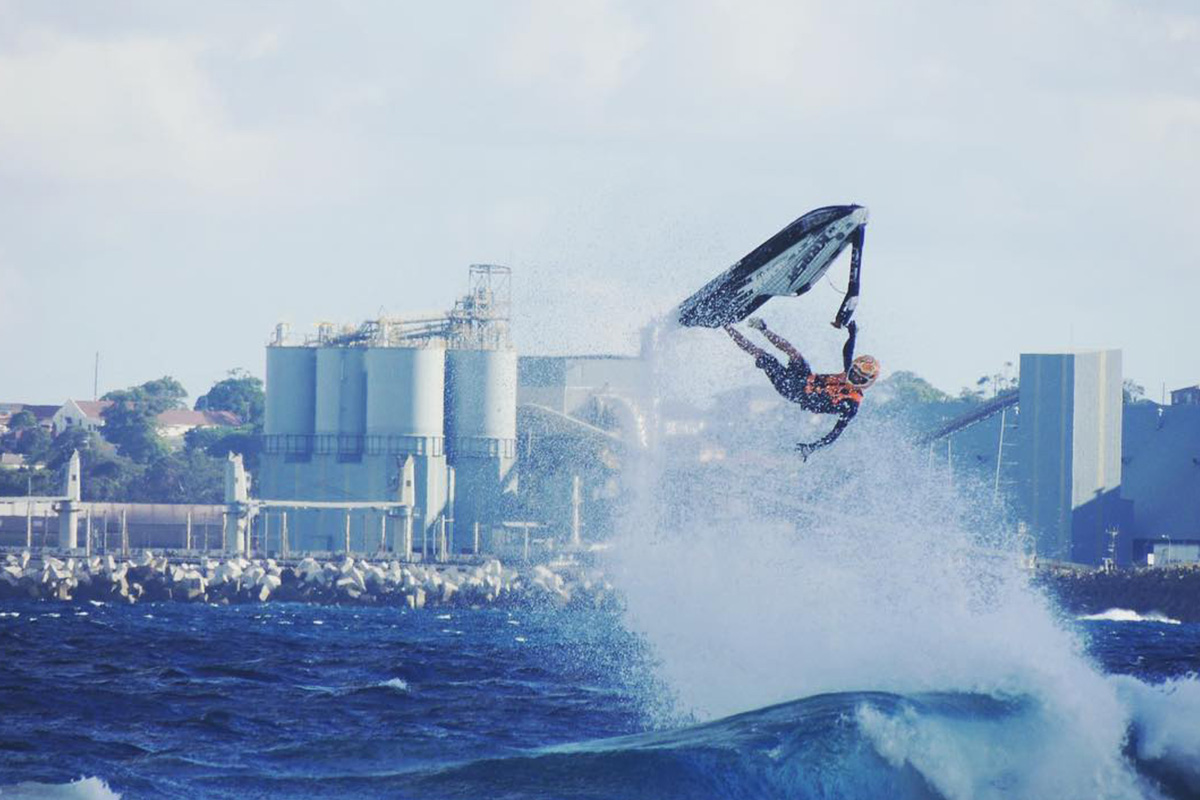 Krash Footrocket Pro offers the best power to weight ratio
Typical Power-to-Weight Ratio Ranges
The best power-to-weight ratios can be found in modified racing watercraft and have a stunning ratio of 1. For some racing examples, see Kevin Shaw's article on power-to-weight ratios here.
If you're not looking for a racer, you are still in luck. Many current models sport excellent ratios and we've listed a few examples here for you.  
When it comes to power-to-weight ratios, Krash Watercrafts are the best of the best with some PWCs at 0.4-0.5 ratios and a 997 ccm two-stroke engine. These lightweight offerings are an excellent choice for more athletic PWC enthusiasts since they are mainly ridden in a standing position.
Next on our list are 3 seaters like the Kawasaki Ultra Series, Sea-Doo's top performance models, Yamaha FX series, and Yamaha GP1800R, all of which reach a 0.3-0.35 ratio, with 250-310 HP and 800-900 pounds net weight.  
Stand-up watercraft competitors for Krash PWCs like the Yamaha SuperJet and the 2021 Kawasaki SX-R 1500 perform well at ratios of 0.24 and 0.32.
While the Superjet arrives with 73 HP (but with a much lighter hull – 306 lbs), the SX-R Jet Ski horsepower armory is no less than 160 HP!

Rec-lite and Recreation models are the largest sized options in the group and generally have a ratio of 0.14-0.24. Engines for this type of machine are naturally aspirated (not super-charged) and models weight in around 400-800 pounds.
Due to the wide weight range, the performance varies widely in this category.
Takeaways
As you've now learned, a PWS's performance is not just about horsepower.  
Power-to-Weight ratios are an exceptionally important factor to consider and for good reason.  
The Jet Ski horsepower numbers can range from 160 to 310 HP depending on the model. Sea-Doo offers PWCs from as low as 60 to as high as 300 HP, while you can find Waverunners with 73 – 250 HP engines.
On the other hand, weights can be found from 273 pounds all the way to 1,000+ pounds.
Along with this wide array of stats comes a great variation in power-to-weight ratios, starting from 0.15 hp/pounds. and ending at 0.5 hp/pounds.  
When searching for the right personal watercraft, consider how important watercraft performance is to you. For those of you interested in PWC racing, perhaps a Yamaha with SVHO engine is a perfect choice.
If you are looking for a nimble stand-up PWC, a PWC from the Krash Watercraft family may be your best bet.
Perhaps comfort is a bigger factor for you. If so, a Recreation or even a Luxury watercraft could be a better choice.
We recommend always doing your research prior to selecting a PWC and trailer. If you would like to review stats about various personal watercraft models from top brands, check out our Sea-Doo vs WaveRunner vs Jet Ski comparison tool!
DISCOVER 2023 PWC MODELS Kawasaki, Sea-Doo, Yamaha, Krash…