Krash PWC Reviews: Footrocket, 50 CAL, Reaper, Predator
Building a freestyle PWC with an aftermarket hull is always a big challenge, and thus it can lead to a lot of pain and frustration.
But for a long time, this was the only way, if you wanted to do tricks like backflips, especially on flat water.
The good news is that finally, turn-key freestyle PWCs are available straight off the shelves, thanks to Nick Barton and Krash Industries!
Would you like to discover and compare these amazing Krash PWC models, and learn more about the KV997 engine? Don't hesitate to learn more!
We, at JetDrift, have gathered the most important info, specs, pictures, and videos into this detailed Krash Industries review!
Krash PWC Reviews
Krash Industries was established in 2008 and offered aftermarket freestyle/freeride PWC hulls in the first few years.
As the big three (Sea-Doo, Kawasaki, Yamaha) hadn't put much effort into developing new freestyle PWC models, these aftermarket hulls were a really good base to build your own freestyle craft.
Unfortunately, this process proves very expensive in many cases, as it may cost $20,000-$25,000 or even more, not to mention a lot of work and effort.
But fortunately, Krash Industries changed the game and surprised the hungry freestyle/freeride PWC enthusiasts!
To benefit the customers and to fill the market gap, Krash Industries released a series of read-to-go freestyle PWC models. Nick Barton, (the CEO and President of Krash) designed not only the hulls, but the KV997 engine and the other internals as well.
Keeping the different riding styles in mind, Krash didn't leave it to chance and designed 5 different hulls which are all manufactured in Thailand. Although the hulls and decks are different, every model is powered with the same KV997 engine.
It's a lightweight, two-stroke, 997cc power source that produces 130 HP, which results in outstanding power-to-weight ratios.
This means you can get a new freestyle PWC straight off the shelves, which is ready for flatwater PWC tricks like backflips or barrel rolls.  When it comes to the Krash PWC models, currently you can find these models in the fleet:
50 CAL
REAPER
PREDATOR
FOOTROCKET
FOOTROCKET PRO
Speaking of Krash Industries PWC prices, these models are not the cheapest models on the market, as prices range from $12,599 to $16,799.
On the other hand, they are still far more affordable than building a freestyle PWC from scratch!
| Model | 50 CAL | Reaper | Predator | Footrocket | Footrocket Pro |
| --- | --- | --- | --- | --- | --- |
| MSRP ($) | $12 599 | $12 599 | $15 500 | $12 599 | $16 799 |
| Performance (HP) | 130 | 130 | 130 | 130 | 130 |
| Displacement (cc) | 997 | 997 | 997 | 997 | 997 |
| Net Weight (Lbs) | 308 | 321 | 304 | 308 | 273 |
| Curb Weight (Lbs) | 338 | 351 | 334 | 338 | 303 |
| Power to Curb weight ratio HP/Lbs | 0,38 | 0,37 | 0,39 | 0,38 | 0,43 |
| Power to Net weight ratio HP/Lbs | 0,42 | 0,40 | 0,43 | 0,42 | 0,48 |
| Length (") | 82 | 88 | 84 | 82 | 82 |
| Width (") | 30,5 | 32 | 28 | 26 | 26 |
| Height (") | 26 | 38 | 26 | 30,5 | 30,5 |
Let's take a closer look at these models one-by-one!
Krash 50 CAL Review
Are you looking for an all-round stand-up PWC? If yes, the Krash 50 CAL is for you wherever you ride!  At first sight, the 50 CAL looks cool and very high quality; the hull is made of 100% resin-infused, long strained fiberglass composite.
Speaking of the 50 CAL dimensions, it's 30.5 inches wide and 82 inches long, and the tray is spacious. This means its hull is shorter and wider compared to the Yamaha Superjet, while its weight is practically the same (net weight: 308 pounds, curb weight: 338 pounds).
The 50 CAL is designed for flatwater PWC tricks, so it can easily backflip or barrel roll in stock condition, even on flat water! But if you're a beginner, you can do these tricks much easier on a boat's wake (if it's not illegal)!
The hull is really well handled, so beyond the flatwater tricks and aggressive turns, it also does a really good job on waves.  This means, thanks to its wide and stable hull and tray, you can also ride waves well. It means the 50 CAL is perfect for oceans and lakes as well.Az űrlap teteje  Riding on a Krash 50 CAL is easy, as are the starts. From shallow water, you can expect a simple one-foot start.
Loudness? Be prepared for the Krash PWCs to be significantly louder than stock OEM watercraft models. To get an idea, these models are slightly louder than a modified Yamaha SuperJet with B-Pipe Exhaust Kit.  Be careful, as the 50 CAL is really addictive. After trying it out, you wouldn't want to ride anything else!
Krash Footrocket Review
The Krash Footrocket is probably the most wanted Krash PWC, besides the 50 CAL of course.
According to the manufacturer, the Krash Predator is a dedicated inland aerial PWC. It can easily flip off its own wake, but if you're looking for the big air, you can expect the highest jumps on a surfboat's wake!
This super playful freeride ski arrives with two hull options, which means the basic and the PRO. Just like the 50 CAL's, the Krash Footrocket's hull is made of fiberglass; it's 82 inches long and 30 inches wide. The 308 pounds of net weight and 130HP performance results in a 1:2.4 power-to-weight ratio.
You can expect a lot of air time, slips and slides on the Footrocket, but if you're a beginner, don't worry. The Footrocket is really playful even at lower speeds!  Are you looking for something more aggressive? Than the Krash Footrocket Pro is for you.As this model is made of 100% Carbon composite, the Footrocket Pro is as lightweight as just 273 pounds! With the same 130 HP KV997 power source, you can get an amazing 1:2.1 power-to-weight ratio, which is outstanding in the PWC industry!
Moreover, compared to the basic Footrocket, the Pro got a slimmer hull, as it's just 23.8 inches wide!   You can take in the benefits of this slim design and the lack of the sponsons during quick spins, making the whole ride more nimble and fun.  If you're looking for the most aggressive PWC in the freestyle category, the Krash Footrocket Pro is for you.
Krash Predator Review
The Krash Predator is considered as an ultimate all-round stand-up PWC. Whether you're a beginner or an advanced rider, you can't go wrong with the Predator.  According to Krash, the Predator is a combination of exhilaration, performance, and stability.
Compared to the other Krash PWC models, the Predator has a longer (84") hull and tray which result in greater buoyancy. The hull is made of fiberglass composite while its net weight is 304 pounds.
Speaking of its design, it features the latest hull handling technology. The sharp lines not only add strength to the hull in key areas, but Krash also changed the rail system from a 90-degree rail to a 45-degree rail. This upgrade means more stability at low speeds but it also helps for high-speed carving.   Moreover, the Predator's hull features front and rear sponsons for better maneuverability, which means you can ride like a pro within minutes!
Krash Reaper Review – The Dirt Bike Of The Water
The Krash Reaper is known as the "dirt bike of the water" due to its unique design. The Reaper features motocross-style handlebars and seats that make this PWC the closest thing to motorcycles on the water.
The rider position, as well as weight distribution, are quite close to that of an FMX or MX motorcycle, so ultimately, the riding experience on a Reaper is like on a real dirt bike!  This means you can try every trick you've ever wanted to do on the motocross tracks – but in much safer conditions!  Even in the pictures the Reaper looks huge, but in fact it's quite a tiny watercraft!
As far as dimensions, the Reaper is 88 inches long and 32 inches wide. Surprisingly, many Krash fans consider the Reaper a larger Predator, as their hulls are quite similar, but the Reaper is 4 inches longer and 4 inches wider. These larger dimensions and the design of the hull make the ski stable and user friendly.
Beyond the vertical dimensions, it's much taller as well due to its unique handlebar, so finally, it as tall as 38 inches. The seat is also quite high, but if you have experience with motorcycles, you'll appreciate this design, as you can control the Krash Reaper easier with the seat between your knees.
Compared to other freeride hulls with fixed steering, the Reaper is really agile and nimble. As a result, when it comes to freestyle tricks, this model has very similar abilities to the regular stand-ups.  Just like every Krash PWC, the Reaper is powered with the same 130 HP KV997 engine. This power source is plenty, even in this bigger hull.
At first glance, the Reaper seems quite similar to the legendary Yamaha WaveBlaster I, but riders who have experience with both claim that these models are quite different.
They say the main similarity between these PWCs is probably the tricky deep-water start, which definitely needs some practice and athletic skills.   Anyway, if you're looking for a fixed-steer freestyle PWC, there aren't too many models to choose from on the market!
Krash Industries KV997 Engine Review
Let's take a closer look at the famous KV997 engine (known as Kavinci 997). As we've mentioned, you can find this power source in every Krash PWC model.  This is a powerful 2-stroke, 2-cylinder, 997cc engine, which arrives with 'Black Ops' carburetors (with Mikuni internals).
The KV997 engine produces 130 HP and 154 NM of torque at 5800 rpm. This means tons of torque and power even in stock condition, so finally, you don't have to struggle with modifications!
How fast are the Krash PWCs? According to the manufacturer, all of the Krash PWCs' top speed is around 46 mph, moreover, the stock KV997 engine can go from idle to 7000 rpm in 0.326 seconds.
One of the best features of this engine is that it offers three different power modes. This means you can switch easily between 70, 100 or 130 horsepower at the push of a button, based on your needs and skills.
This makes the PWCs user-friendly and easier-handling even for inexperienced riders. It means if your riding buddies want to borrow your new Krash watercraft, you can cut the engine's power back which results in fewer worries!
Although the hulls of the Krash watercraft are manufactured in Thailand, the internals, as well as the KV997 engines, are still made in Australia.
Not only are these key parts manufactured by the professional Krash team, but they assemble the whole watercraft as well. It means every Krash PWC is thoroughly inspected before delivery.  Every Krash model features a 4.5-gallon fuel tank a 148mm pump (with trim), and a stainless steel impeller. As it's a 2-stroke craft, it requires pre-mixed gas/oil.
KV997 Specs Chart
For your convenience, we've gathered the key specs of the KV997 engine in one chart:
| Engine | Krash KV997 | Yamaha Superjet | Kawasaki SX-R 1500 |
| --- | --- | --- | --- |
| Engine Stoke | 2-Stroke | 2-Stroke | 4-Stroke |
| Cylinders | 2 | 2 | 4 |
| Displacement (cc) | 997 | 701 | 1498 |
| Performance (HP) | 130 | 73 | 160 |
| Bore x Stroke | 88.0mm x 82.0mm | 81mm x 68mm | 83mm x 69.2mm |
| Cooling System | Open-Loop | Open-Loop | Open-Loop |
| Fuel System | Carburetor | Carburetor | Fuel Injected |
| Fuel Capacity (gal) | 4.75 | 4.8 | 6.1 |
| Lubrication System | Pre-Mixed oil/fuel | Pre-Mixed oil/fuel | 4-stroke |
You can learn more about this unique power source here.
Krash PWCs vs. The Competitor Models
When it comes to purchasing a new stand-up PWC, the competitor models of Krash PWCs are the legendary SuperJet from Yamaha, and the four-stroke Kawasaki SX-R 1500. As most of these models are in the same price range, a comparison makes sense.
Below, we just highlight the most important specs and some visual comparisons for you, but you can find a comprehensive SXR1500 vs. Krash vs. SuperJet comparison here.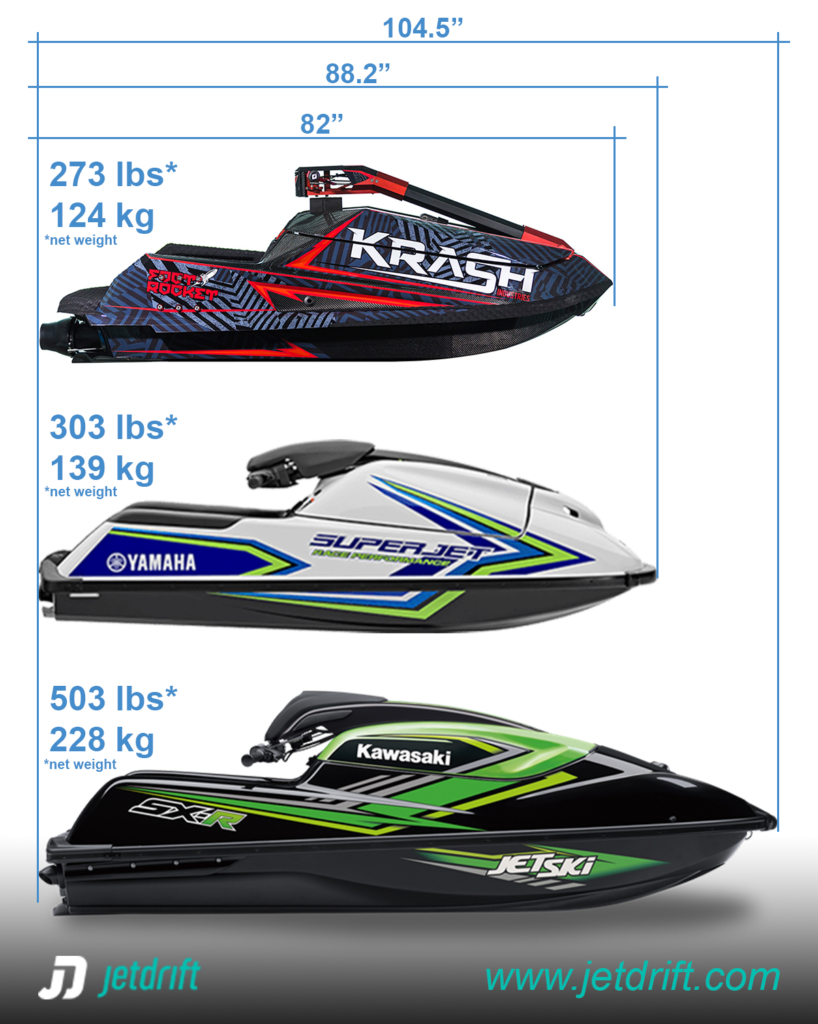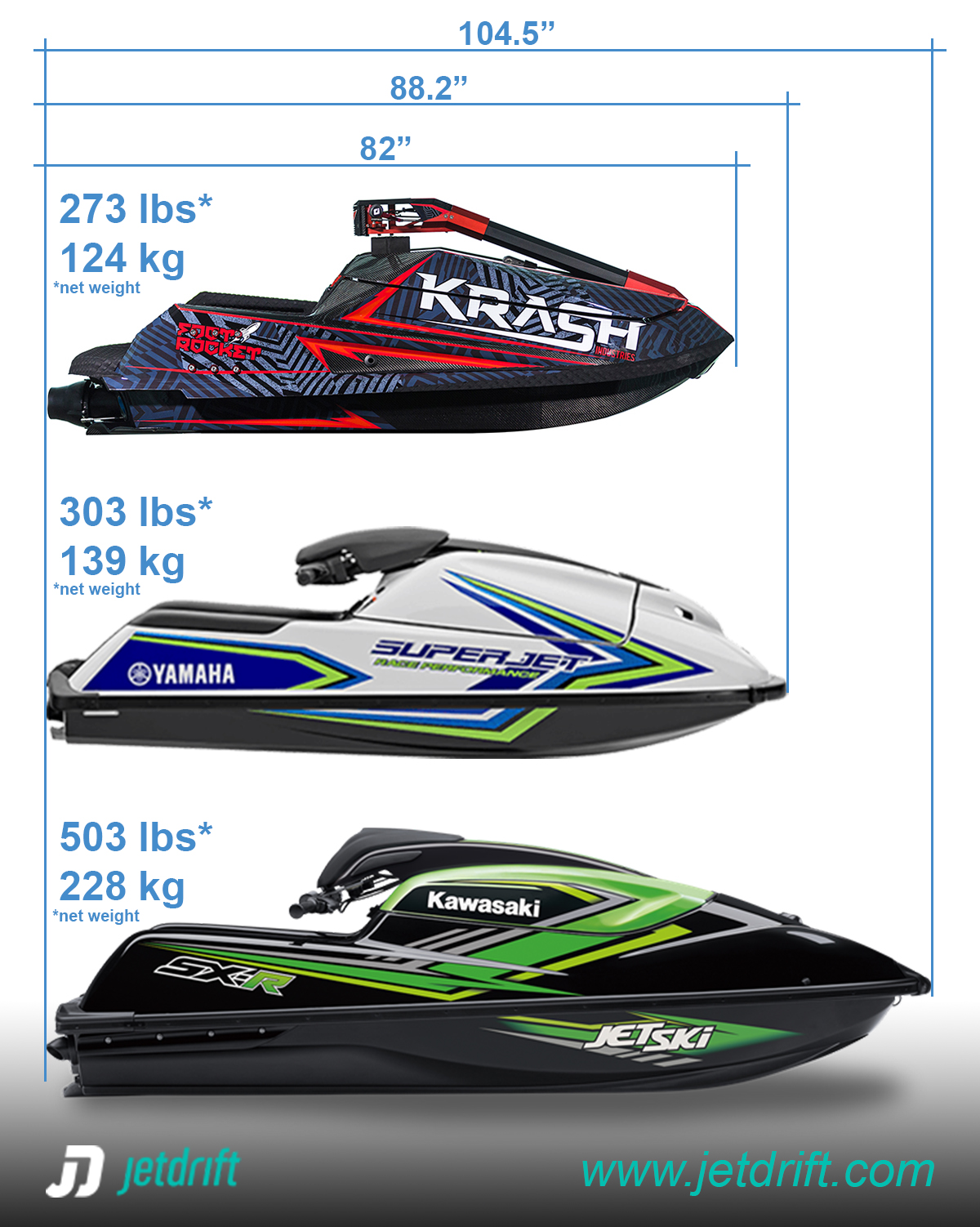 Krash Industries US Dealers List
Are Krash PWCs available in the US?  This a typical question of many freeride riders. The good news is yes, these amazing freestyle skis are available nationwide. What's more, you can even finance a Krash watercraft through your dealer if you want!
This means Krash Industries is now providing you a complete dealer network, services, and parts, just like any other OEM brand.  For your convenience, we, at JetDrift, have done the research for you and collected these dealerships in this Krash US Dealers List.
List of Krash Dealerships in the US
Central Florida Watersports
2575 N Orange Blossom Trail
Kissimmee Florida 34744
Saratosa Watersports
2001 University Parkway
Sarasota Florida 34243
Crossroads Yamaha
1935 E. Main St
Albemarle North Carolina 28001
Wildwood SeaDoo
1155 US HIGHWAY 9 SOUTH CAPE MAY COURT HOUSE
Wild Wood
New Jersey 08210
Island Powersports
4116 Sunrise Hwy
Massapequa New York 11758
Jersey Shore Powersports
656 Highway 35
Middletown New Jersey 0774
One Stop Trailer Shop
194 Beauty Hill Rd
Barrington New Hampshire 03825
RTF Jetskis
14543 High rd
Lockport Illinois 60441
M-46 Powersports
1635 E Apple Ave
Muskegon Michigan 49442
F & G Motorsports, LLC
W3291 County Road EE
Seymour Wisconsin 54195
River Rat Motorsports Bullhead City
1030 AZ-95
Bullhead City Arizona 86429
River Rat Motorsports Havasu City
1680 Acoma Blvd – West
Lake Havasu City Arizona 86403
Redding Yamaha
1936 Twin View Blvd 1936 Twin View Blvd
Redding California 96003
Krash Industries Offices (US and AU)
Krash Industries Global Head Office
251 Little Falls Dr,
Wilmington, DE 19808
USA
+1 917 475 0138 US
Krash Industries Australian Head Office
1/7 Sir Laurence Drive,
Seaford, VIC 3198
Australia
+61 03 8595 0922
Conclusion – Krash PWC Prices
Can a Krash PWC backflip in flat water? This is a common question asked by many freestyle PWC enthusiasts. The good news is yes, you can do backflips, barrel rolls, and many other tricks with a Krash, even in flat water!
That's why turn-key watercraft from Krash Industries have become increasingly popular!
You don't have to struggle with the building process of a freestyle ski on an aftermarket hull, or make endless modifications on the regular stock models.
Each model in the Krash fleet is a ready-to-go, powerful freestyle PWC, powered with the 130 HP, 2-stroke KV997 engine.
Krash offers 5 different models this year:

50 CAL
REAPER
PREDATOR
FOOTROCKET
FOOTROCKET PRO
The 50 CAL and the Predator are considered as "all-round stand up" skis, while the Footrocket is advertised as an "inland aerial PWC." This model is available with two different hulls, made of fiberglass and carbon.
If you're looking for the closest thing to a dirt bike on the water, the Krash Reaper is for you.This is a unique fixed-steer freestyle PWC that looks like the iconic Yamaha WaveBlaster, but it offers so much more.
With the Reaper, you can do the same things as with a dirt bike, but fortunately riding on the water is much less dangerous!  Drawbacks? Mainly the prices!
How much is a Krash PWC in 2021?
These amazing freestyle watercraft are definitely not among the cheapest PWC models on the market. Four out of five 2021 Krash PWC models cost $12,599, while the Footrocket Pro has a bigger price tag ($16,799) due to its carbon hull.
In contrast, a bone stock Yamaha SuperJet costs $9,499 while you have to pay $9,999 for the SX-R 1500 from Kawasaki. You can discover and compare all of these models here!
This was our short Krash PWC review; we hope you found it useful!
__________________
Related articles:
Krash Freestyle Watercrafts Ride into the US Market! [Video]
Kawasaki SX-R 1500 vs. SuperJet vs. Krash Comparison
5 Best Freestyle Stand-Up Jet Ski Tricks [Video]
DISCOVER 2023 PWC MODELS Kawasaki, Sea-Doo, Yamaha, Krash…