Yamaha JetBlaster vs. Yamaha WaveBlaster Comparison [Chart]
JetBlaster vs. WaveBlaster Comparison Chart
Without further ado, let's compare the key specifications of the JetBlaster and the three WaveBlaster generations in one chart!
| Specs | WB I (700) | WB II (760) | WB III (800) | JetBlaster |
| --- | --- | --- | --- | --- |
| Engine stroke | 2 | 2 | 2 | 4 |
| Displacement (cc) | 701 | 754 | 784 | 1049 |
| Performance (HP) | 63 (73) | 90 | 120 | 110 |
| Dry weight (lbs.) | 320 | 397 | 496 | 549 |
| HP/Weight | 0.197 | 0.227 | 0.242 | 0.200 |
| Length (") | 95.7 | 107.1 | 107.1 | 123.6 |
| Width (") | 34.6 | 40.6 | 40.9 | 44.5 |
| Height (") | 35.8 | 38.2 | 38.0 | 46.5 |
| Fuel cap.(gal) | 6.6 | 10.6 | 10.6 | 13.2 |
| Max speed (mph) | 44 | 47 | na | 53 |
| Rider Capacity | 2 | 2 | 2 | 3 |
This chart is for informational purposes only! For exact specifications, please refer to the factory manual.
Yamaha JetBlaster vs. WaveBlaster Comparison
The first Yamaha WaveBlaster, also known as the WaveBlaster I hit the market in 1993.
This small motorcycle-like watercraft created a completely new category and instantly became popular in the marketplace. No one was surprised that it was awarded "Watercraft of the Year" in the year it was introduced!
Surprisingly, these vintage crafts are still popular after all these decades with many of them still on the water! How is this possible?
It's because the Blaster series offers an unbeatable riding experience thanks to their extremely small hulls and lively 2-stroke engines.
They are actually positioned halfway between the stand-up and sit-down categories, which is why these crafts represent a unique class known as "Freestyle" sit-down PWCs.
Nearly 30 years after first introducing the Blaster series, Yamaha has decided to revive the Blaster name. In 2022, the company introduced the new Freestyle category in its fleet, including a new model they named the JetBlaster.
But to the disappointment of most Blaster fans, the JetBlaster is not a new playful model designed from scratch. Instead, it's actually a rebranded EXR with the same "freestyle" package that Sea-Doo introduced on its Spark TRIXX series a few years back.
This package includes a wider and taller handlebar, a pair of foot chocks, and an extended electric trim.
Therefore, many riders say that the JetBlaster is more comparable to the 3-seater TRIXX than the iconic WaveBlaster series. What's more, some go even further by claiming that this model doesn't deserve the Blaster name as it's much bigger and heavier compared to the original WaveBlaster series.
Are you wondering how much is bigger?
Simply put, the hull of the WB I is only 95.7 inches long and 34.6 inches wide, which ensures sharp turns and a lively attitude.
In contrast, the JetBlaster is 123.6 inches long and 44.5 inches wide, meaning that this craft is 27.9 inches longer and about 10 inches wider than the WB I. Therefore, the JetBlaster is roughly 30% larger than its predecessor!
For a better comparison, please let's take a look at this visual: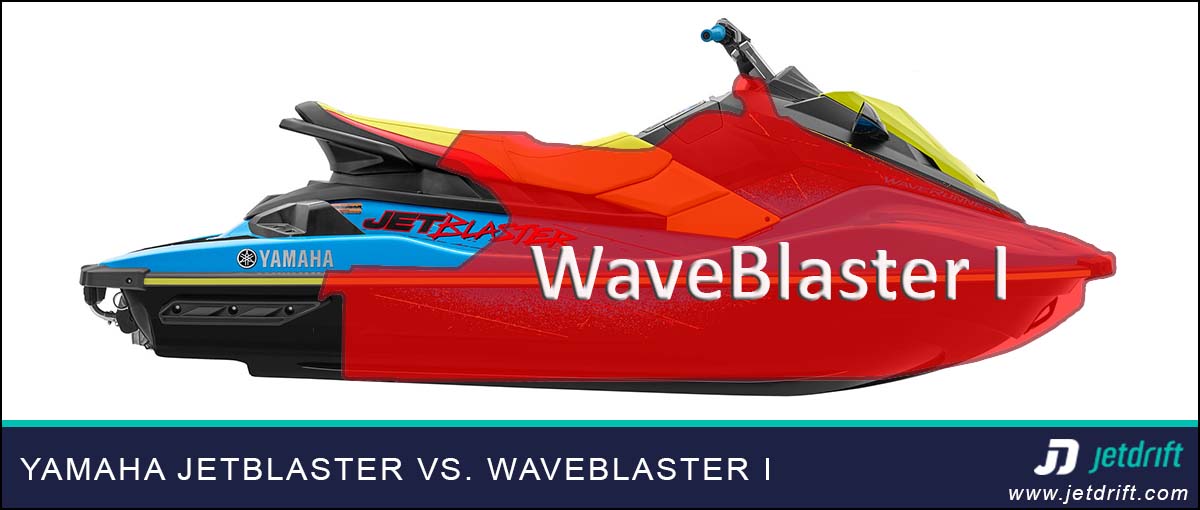 The dry weight of the WB I is only 320 pounds, while the JetBlaster weighs 549 pounds, which also means a weight increase of 70%.
On the other hand, the JetBlaster is significantly more powerful as it utilizes a 4-stroke TR-1 HO engine that produces 110 HP. In the '90s, PWCs were exclusively released with 2-stroke engines, so the original power source of the WB I is a 701cc 2-stroke twin that cranks out 63 HP.
Surprisingly, due to the weight differences, the JetBlaster and the WaveBlaster I offer about the same power-to-weight ratio (ca. 0.20).
Thanks to significantly more horsepower, the JetBlaster can hit much higher top speeds, as it can reach a whopping 53 mph, while the WB I topped out at 44 mph.
It also has to be mentioned that in 1996 the WB I got a noticeable engine update. With the twin Mikuni carbs, the revamped Blaster I produced 73 HP, which led to a better (0.23) power-to-weight ratio and slightly higher top speed.
Since the WB I was designed for cornering it doesn't offer the best riding experience in a straight line. This was especially true at low speeds, as the high center of gravity made the craft unstable.
On top of that, reboarding the machine in deep water was quite challenging. Because of this, after four years of production, the model was replaced by the much bigger WaveBlaster II, followed by a more powerful third generation in 1999.
As you can see, these larger models are already far closer to the JetBlaster in weight and dimensions.
The carefully designed hull of the WB II was 107.1 inches long and 40.6 inches wide, while the machine weighed 397 pounds. This bigger hull offered easier handling and more stability.
The third generation WaveBlaster, the WB III, had nearly the same hull as its predecessor, but it featured a more powerful, 120 HP engine option and weighed 496 pounds.
Therefore, it seems only this third-generation WaveBlaster is comparable to the new JetBlaster on a certain level. Due to their heavyweight and larger dimensions, both models are less lively and playful than the original WB I was!
Why does Yamaha Use the Blaster Name?
But why does Yamaha use the Blaster name for this new "Freestyle" model if it's actually just a rebranded EXR?
As you might assume, the Japanese manufacturer wants to take advantage of this popular brand name. But avid Yamaha fans see through the trick and consider this model a nostalgic disappointment.
Many say that the JetBlaster doesn't deserve the Blaster name, as its hull doesn't offer the same performance as its predecessors.
Since the JetBlaster is obviously influenced by the competitor Spark TRIXX, it has already been nicknamed "Yamaha EX TRIXX" by the upset Blaster fans.
They claim that the new Blaster has to be built on the platform of the new SuperJet. It would be a great idea as this hull were the same exact length as the WB I hull.
But it seems Yamaha is sticking to the bigger hulls when it comes to sit-down WaveRunners!
Conclusion
Even if the Yamaha JetBlaster is an amazing PWC, its name caused a great deal of outrage among Yamaha fans. Let's face it, this machine is nothing but a restyled Yamaha EXR with freestyle handlebars, foot chocks, and custom electric trim. It's a great ski, but it's definitely not a Blaster.
Instead, it's a great modern PWC that offers a lot of fun and convenience at the same time. Just take a look at the videos above about the vintage Blaster models, it's obvious that these machines are not for everyone!
Riding them requires many skills, not to mention the reboarding from deep water, which can be nearly as tricky as reboarding a stand-up.
Falling into the water several times, exhausting reboardings, and the lack of the ability to carry a passenger… these are not what an average PWC buyer is looking for!
Sure, a few hardcore PWC enthusiasts with athletic skills are looking for challenging rides and much smaller crafts. But the majority of the market is looking for stable, convenient, and easy-to-ride skis, which can be ridden even without any skills.
A smaller Blaster would only be attractive to a narrow segment of customers, for whom it's probably not worth developing a completely new model.
These are probably the reasons why the new Blaster didn't get smaller, and why it won't likely become any smaller in the future either!
DISCOVER 2023 PWC MODELS Kawasaki, Sea-Doo, Yamaha, Krash…