Sea-Doo Spark TRIXX Review: Specs, Prices, Pictures, Videos
In the world of personal watercrafts, the Sea-Doo Spark TRIXX is currently the most exciting sit-down model. As its name implies, you can do many cool tricks on it thanks to their unique extra features.
Sea-Doo Sparks are still among the most affordable watercraft on the market these days, and they have really low maintenance costs as well.
It also needs to be mentioned that the Sea-Doo Spark and Spark TRIXX series are quite divisive among PWC fans, as some fall in love them while others prefer larger and more powerful models.
Due to their affordability and high fun factor, Sparks are among the most sold personal watercraft on the market year after year!
If you're also considering buying a Spark TRIXX, this post is for you. We, at JetDrift, have gathered the most important specifications, features and prices of Sea-Doo Spark TRIXX for you in this article.
If you're interested in the standard Spark 2UP and 3UP as well, don't miss our latest review about these models!
How the Sea-Doo Spark Series was Born
In the past, sit-down watercraft were small and flexiblewater toys – mainly for sport purposes.
But over the years, their sizes increased. Additionally, not only the hulls' dimensions, but the weight, performance, and top speeds started to grow significantly.
Therefore, PWCs became more stable and easier to operate, so they became more attractive to buyers. Some owners believe nowadays that the biggest models can be alternatives to boats!
Although this trend has many advantages, unfortunately, it definitely has some drawbacks as well.
The first and most important drawback is that these bigger hulls offer less dynamic and playful rides.
It seemed there was a huge market demand for nimble and small watercrafts. Sea-Doo saw the opportunity and released the Spark series in 2014. With this step, a new PWC category, the Rec-Lite was born.
A short time later, in 2016 the Sea-Doo Spark TRIXX was introduced which raised playfulness to a new level!
About the Sea-Doo Spark Line
If you're looking at the whole Sea-Doo Spark family, the variety of these models can be confusing.
Sea-Doo offers Sparks in 25 different versions, if we take into account different capacities, performance and color options.
What's more, if we look into the countless accessories and extra graphic kits offered for Sparks, the variations are endless!
To make it easier for you, we've collected the main options and additions of all Sea-Doo Spark models. If you're considering buying a Spark, you can choose from:
– 2 main lines: Spark and Spark TRIXX
– 2 length and seats variations: 2up and 3up
– 2 engine options (900 ACE 60HP, and 900 HO ACE 90 HP)
– 5 color options (3xSpark, 2xSpark TRIXX)
– iBR and convenience package: optional on standard Sparks (standard on TRIXX)
– Sound system: optional for all model
We've created a small chart for better understanding of all of the available Spark options:
In this review we'll focus solely on the TRIXX versions, but you can discover the standard Spark line here.
Sea-Doo Spark TRIXX Review
Sea-Doo Spark TRIXX Price Tags
Currently, there are two different Sea-Doo Spark TRIXX models on the market; the 2up and 3up. Both TRIXX versions arrive with the same features and performance; you can find differences only in their hulls' length and seat capacities.
Due to these differences, the Sea-Doo Spark TRIXX price tags are different as well for the 2 models:
The Sea-Doo SparkTRIXX 2up arrives with a shorter seat that offers 2-rider capacity (comfortable for one adult and one child), and a shorter hull (full length: 110″) with the price tag of $ 7,599.
The Sea-Doo Spark TRIXX 3up has a longer seat with 3-rider capacity (comfortable for two adults and one child), and a Platform Extension that makes the hull 10″ longer (total hull length: 120″). This version is available for $ 8,199.
Except for these differences, the two models arrive with the same standard features. These are:
– VTS: Extended-Range Variable Trim System
– iBR: Intellingent Brake and Reverse System
– Adjustable Handlebar
– Step Wedges
– Bilge pump
These features are standards on any Spark TRIXX model, but they're available to any other Sea-Doo Spark models for an extra price. Let's take a deeper look into these one-by-one!
Sea-Doo Spark TRIXX Features
Sea-Doo Spark TRIXX is an upgraded version of the basic Spark series.This means TRIXX has some extra additions which make it capable of different cool tricks:
Are you interested in these additions and extra features which are standard on the TRIXX?
VTS – (Extended-Range) Variable Trim System
What does VTS mean on a Sea-Doo?
The most important addition that makes the TRIXX PWC line unique is the VTS which means Variable Trim System. This feature allows you to raise the nose of the watercraft much higher than you would on other regular models. In this way, you can do many cool tricks with your Spark TRIXX, like "wheelies"!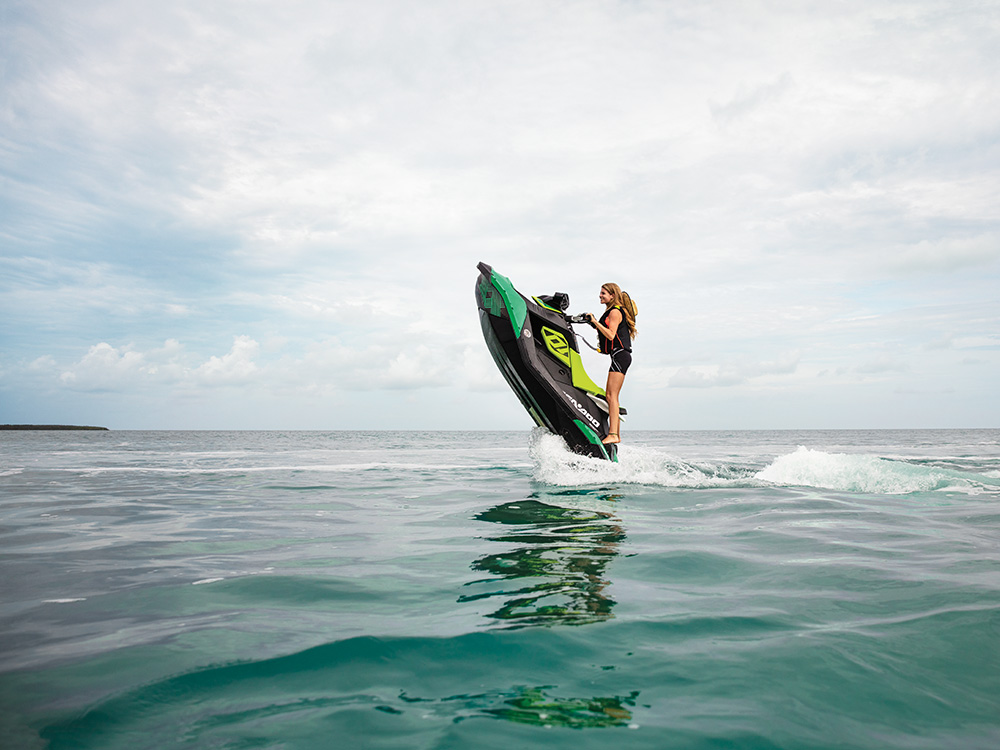 iBR: Intellingent Brake and Reverse
iBR- Intelligent Brake and Reverse System simply mean the brake and reverse system on the TRIXX.
With this feature, you can start the TRIXX in neutral, and you choose between the forward and reverse modes directly from the handlebars. Additionally, it's also a great help during launching and docking:
In general, the iBR system makes your riding experience safer and smoother. So if you're a beginner this iBR system is a good fit. Don't forget that iBR is a standard feature only on the TRIXX models, while for the other Sea-Doo Spark models, it's an extra price option.
You can learn more about iBR and other PWC's braking systems here.
Adjustable Handlebar
Another unique feature on the TRIXX is the special handlebar that comes with an adjustable riser. This system allows you to fix the handlebar in different positions which offers great flexibility for you during tricks.
This handlebar starts 3″ higher than the classic Spark handlebars and you can raise and fix it 6″ higher in its highest position.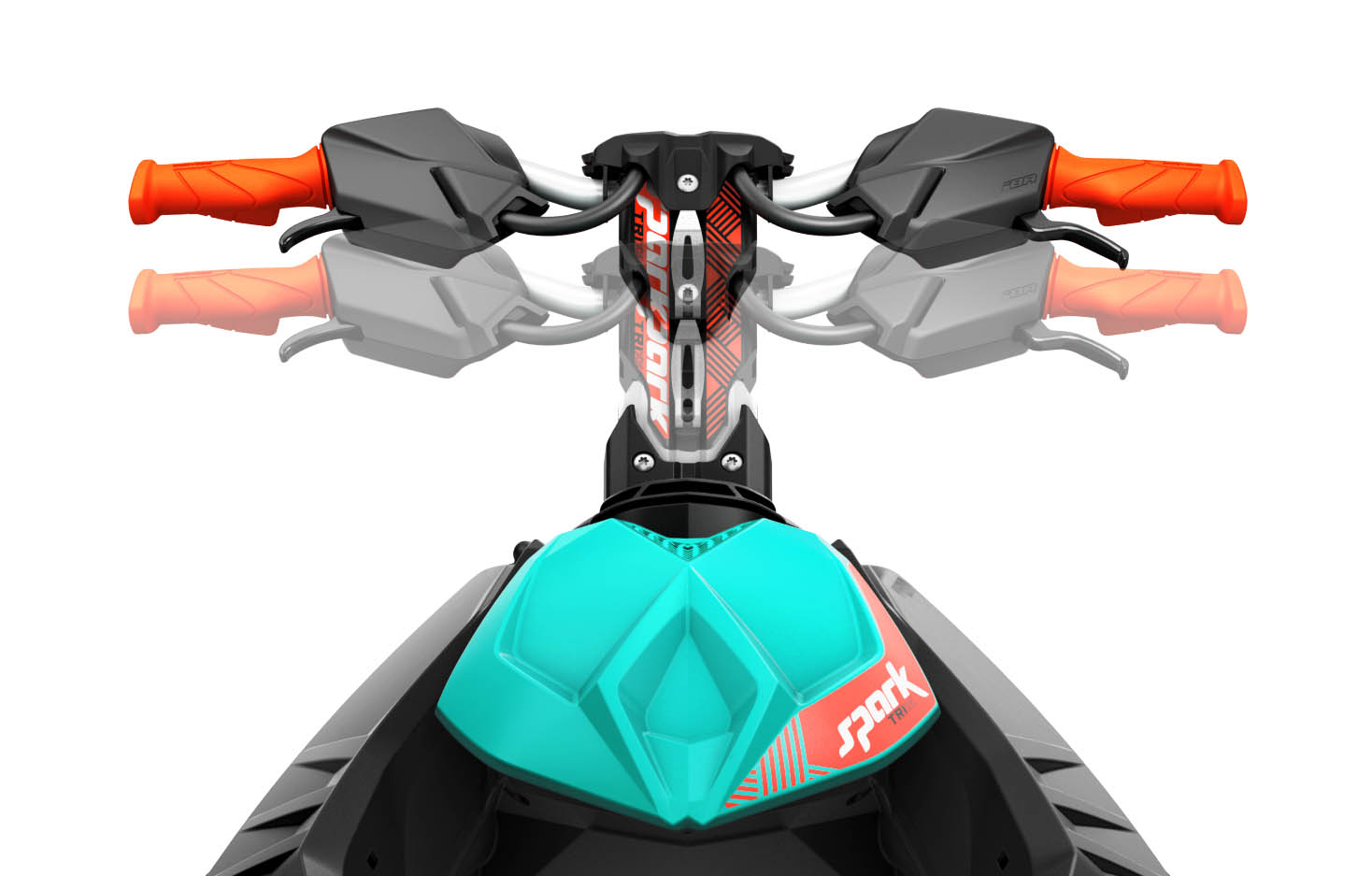 Step Wedges
When you raise the Spark TRIXX's nose up, as you can assume, at the same time, you start sliding backward on the seat.
To solve this issue, Sea-Doo's engineers designed a support foot rest at the end of the footwells labeled Step Wedges. It's a great addition that allows you to use your feet while doing tricks, or even to ride your Spark TRIXX in the standing position!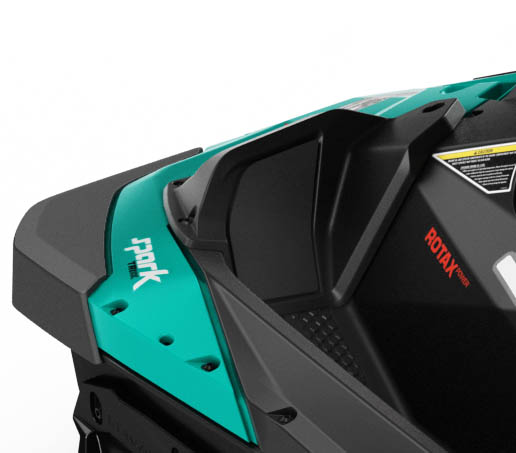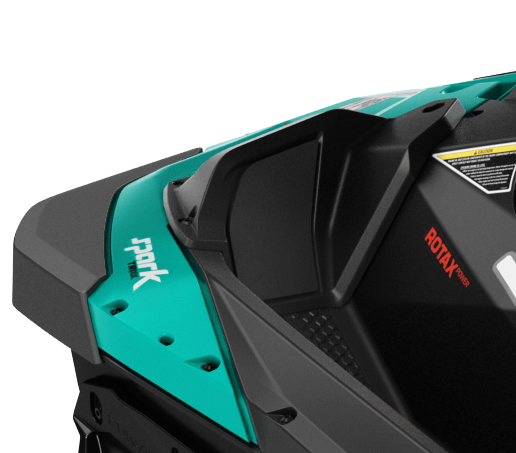 Bilge Pump
A bilge pump is always a great addition; it's like insurance on your Sea-Doo! You can remove the water from the bilge with this pump so you can save your PWC if it's starting to sink for any reason.
Both Sea-Doo Spark TRIXX models arrive with a bilge pump as standard, but it's good to know that you can install an aftermarket bilge pump on any other PWC models easily.
Available Extra Additions
Sea-Doo Spark Speaker
The portable Sea-Doo Spark Speaker is a new really good addition to the Spark and Spark TRIXX models. This is a special portable sound system designed only forthe Spark series.
For the extra price this unique system offers the following features:
– waterproof audio system (50WATT)
– Bluetooth connectivity
– Rechargeable lithium battery
– Removable – arrives with quick-attach system
– Control pad for song and volume adjustment
– Front-mounted and positioned toward the driver
If you're looking for a more affordable speaker for your Spark, don't miss our comparisons of the most popular PWC speaker alternatives.
Other additions
Beyond the sound system, there are several good additions available for the Spark and Spark TRIXX series:
– Covers
– Comfort seat
– Mirrors
– Wind deflectors for handlebar
– Colored handlebars
– Docking accessories
– Graphic kits
– Electrical additions
– Extra storages and dry bags
– Coolers, extra fuel cans
– Performance upgrades
– Trailers and trailer accessories
– Watersport accessories
– Utilities (safety kit, etc.)
You can learn more about these additions at Sea-Doo's official site.
Dimensions
For a better review, we've collected the dimensions of the different Spark and Spark TRIXX models for you under one roof. You can compare their specs head-to-head in this chart:
As you can see, the height and width numbers are the same for each Spark model, but there are slight differences in their weight and length.
This is because all Sea-Doo Spark models arrive with the same hull, but there is a 10″ long extension platform installed on the rear of the 3up versions, thus on the TRIXX 3up as well.
For better presentation, please take a lookat the pictures below. You can see this Extension Platform in semi-transparency: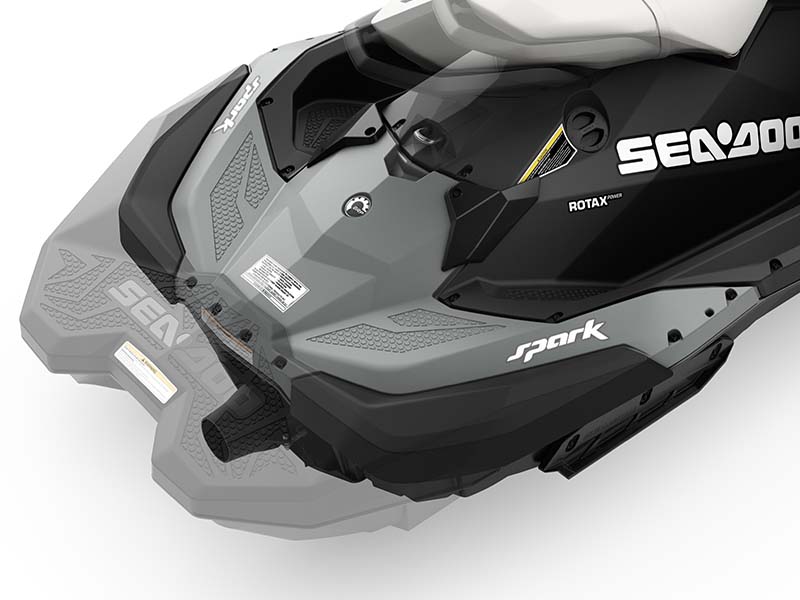 You can compare the 2 hull versionsin this side-view picture as well. You can see that the seat is also longer on the 3up models: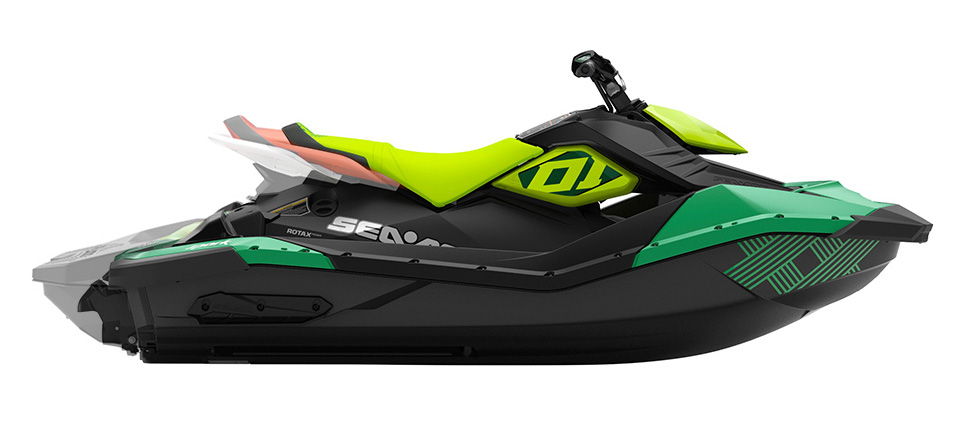 You can enjoy the advantages of the 3 seater saddle and longer hull while you're tubing or wakeboarding!
Storage and fuel capacity
When it comes to the Rec-Lite watercraft category, the main issue is usually the small storage capacity.Spark series is not an exception, as itoffersa smaller Glove Box with 0.42 gallons (1.6L) of storage capacity.
If you need more storage space, you can purchase a Front Storage Kit separately for your Spark TRIXX. This means a remarkable extra 7.42 gallons (28 L) storage capacity, which means one large unit instead of moresmaller storage bins:
The gas tank sizes of all Spark models are uniformly 7.9 gallons (30L) which doesn't seem too much at first glance.
But Sea-Doo Sparks are extremely fuel-efficient; these models burn as low as 2-2.4 gallons per hour on full throttle, depending on the engine performance. It means you can ride several hours with one tank of gas!
In conclusion, although Sea-Doo Spark's fuel capacity is significantly lower than many other models on the market, you can expectthe longest riding experience on one tank of gas if you choose a Spark!
Sea-Doo Spark TRIXX Top Speed andRiding Experience
It's understood that the Sea-Doo Spark TRIXX is a "sit-down" type PWC, but due to their unique features, it's a bit like a stand-up watercraft!
This is because you can manage several freestyle tricks with this model, such as 180-spins, power slides, tail-stands, wheelies and many more!
As the other PWC model's hulls are pretty huge today, TRIXX is one of the few watercraft which offer the "old school" riding experience full of fun.
When it comes to Sea-Doo Spark TRIXX performance, both models are available with the 899cc, 4-stroke, 3-cylinder, 90 HP Rotax engine.(Cooled with closed-loop cooling system.)
With this engine, you can expect Sea-Doo Spark TRIXX top speed at around 50 mph.
It's clear that Spark TRIXX is not the fastest Sea-Doo, but 50 mph on the water is really high speed!
If you would like to compare Spark's performance with other more powerful PWCs, don't miss this chart with the performance specs of all current PWC models from all manufacturers!
Is the Spark TRIXX for You?
Sea-Doo Spark TRIXX is an amazing and unique PWC and could be a great choice for many buyers. Are you considering buying one?
Compare the main pros and cons to find out whether the Spark TRIXX isright for you!
When to Choose the Sea-Doo Spark TRIXX
– Budget: The Spark TRIXX one of the most affordable watercraft on the market, so if you are on a budget, this would be a great choice for you. Beyond the low price tag, it also has the lowest maintenance costs and best fuel consumption as well.
– Storage/move: Spark TRIXX models are extremely lightweight; they are around 420-440 pounds. It means to store, move and launch these watercraft is much easier compared to the largest models with 800-1000 pounds of weight.
– Trailering: Towing the watercraft could be an issue if your car towing capacity is limited. If you have a smaller car, Sparks could be a great choice for you!
– Storage on a boat: Would you like to store your watercraft on your boat's swim platform? Spark and Spark TRIXX models come with small and lightweight hulls so they can be a good choice for this purpose.
– For beginners: Thanks to its small price tag and dimensions, the TRIXX could be a good choice for first-time buyers. But keep in mind that there could be some cons as well if you chooseaSpark as your first watercraft!
– Fun factor: Spark TRIXX brought a new and fresh line to the market as they offer a similar feeling like riding a vintage 2-stroke watercraft!
– Customizable: If you would like to customize your PWC, the Spark TRIXX is definitely for you. There are countless extra additions and graphic kits to choose from!
When Not to Choose the Sea-Doo Spark TRIXX
– Speed: If you want to ride the fastest watercraft available, you should look into the Performance and Luxury categories.
– Passenger capacity: If you would like to take passengers with you regularly, you may be more satisfied with a bigger model with mode capacity.
– Watersports: AlthoughSpark TRIXX 3up can tow a tube or wakeboarder, if you like watersports, a Sea-Doo Wake 170 or a Sea-Doo Wake Pro 230 would be more suitable for you.
– Longer tours: Spark TRIXX is really good on gas, but it's definitely not designed for long tours. It doesn't have the most comfortable seats and it alsohas limited space for storage.
– Fishing: If you would like to fish with your watercraft, you should take a look at larger watercraft models, especially on the Sea-Doo Fish Pro.
Conclusion
As you can see, Sea-Doo Spark TRIXX is an outstanding watercraft.
If you prefer playful rides and like to do freestyle tricks, but arelooking for a "sit down" type watercraft at the same time, TRIXX could be an excellent choice for you.
Just like the standard Spark line, TRIXX models are among the most affordable PWCs on the market.
They are not just easier to buy, but their maintenance costs and gas consumption is pretty low.
Thanks to their small and lightweight hulls, you can handle them much easier, or tow them with your car.
On the other hand, Sparks are not as powerful as the performance flagship PWCs, which means they offer less top speeds as well. They also lack storage space and weight capacity, and don't mention their seats, which are quite small and narrow.
Are Sea-Doo Sparks good? – This is what many buyers are asking.
Based on many owners' experiences, Sea-Doo Sparks are really good. They are not just the most affordable PWCs on the market but are considered the most durable Sea-Doo models as well. Despite their low costs, they offer tons of fun on the water. That's why Sea-Doo Spark is one of the best-selling PWC models every year!
________________
Related Articles:
Sea-Doo Spark vs. Yamaha EX Comparison
DISCOVER 2023 PWC MODELS Kawasaki, Sea-Doo, Yamaha, Krash…