Sea-Doo Spark Review: Top Speed, Weight, and Price Tags
When it comes to personal watercraft (PWC), Sea-Doo Spark and Sea-Doo Spark TRIXX series are among the most famous models on the market.
Beyond their popularity, they are also probably the most dividing models among PWC enthusiasts. A huge mass of fans love them, while others prefer more powerful models with bigger hulls and seats.
But it seems that nobody stays silent about them!
Anyway, it's still the most affordable PWC on the market if we compare all of the currently available PWC models.
Beyond their low purchase prices and owning costs, the Spark series has several additional strengths like the high fun factor, customizable look, or the easy-handling dimensions.
Because of their popularity, many buyers want to know the Sea-Doo Spark's specifications as well as their current prices.
To help your buying process, we at JetDrift, have summarized everything you need to know into this unbiased Sea-Doo Spark review!
History of the Sea-Doo Spark Line
In the past, all watercraft were small and agile vessels – even the sit-down models!
These smaller craft were flexible and playful to ride. But things changed, and over the years, manufactures increased the sizes of the models. Additionally, their performance started to grow as well.
As a result of this process, jet skis became more stable and easier to operate; thus they became more popular as well. Nowadays, it seems they could be alternatives to boats to a certain extent. But on the other side, there are many drawbacks to this trend. The main con is that the bigger hulls offer a less playful and less flexible riding dynamic.
Because of this, the market was hungry for smaller and more nimble PWC models. Sea-Doo grabbed the opportunity and introduced the Spark line in 2014, and with this step, the Rec-Lite watercraft category was born.
Two years later the Sea-Doo Spark TRIXX  series was released,raising the "riding fun" to a new level!
2021 Sea-Doo Spark Price Tags
The Sea-Doo Spark is probably the most customizable watercraft on the market.
You can choose from 5 models in 25 main different variations, and it's still not the end of the story. If you try to go over the countless additions and extra graphic kits, the variations of Sparks are endless!
If you take a deeper look into the Sea-Doo's Spark line, the variety of the models could be confusing. In a nutshell, we've summarized the main variations of these models. According to Sea-Doo's official website, the Spark models are available with:
– 2 main lines: Spark and Spark TRIXX
– 2 different length and seats: with two (2UP) or three (3UP) passenger capacity
– 2 engine options: 900 ACE – 60HP, and 900 HO ACE – 90 HP
– 5 color options: 3x Spark, 2 x Spark TRIXX
– iBR and Convenience Package:Optional
– Sound system: Optional
To make this overview more clear, we've created a small chart for you with all of the available 2021 Sea-Doo Spark models. You can also find the official Sea-Doo Spark price tags (MSRP) in the chart:
Sea-Doo Spark Review
In the Sea-Doo Spark and Spark TRIXX line you can find models with "2UP" and "3UP" tags.
Sea-Doo labels the seating capacity with these numbers; 2UP means 2 riders while  3UP means 3 riders capacity.
If you compare these two models, it's safe to say that both of them are based on the same hull, but there are some differences of course.
This post wouldn't be a precise Sea-Doo Spark review without highlight these differences:
 Sea-Doo Spark 2UP
When it comes to the dimensions, the 2UP and 3UP have the same height and width, you can find only differences in the length of the hulls. It's because the 3UP models have a small addition on the rear side of the hulls, which makes their hulls 10' longer.
This short (110") hull makes the Spark 2UP the smallest sit-down PWC on the market, and offers really playful rides.
It's also good to know that the Spark 2UP is the only version in the family that's available with a 60 HP and 90 HP power source as well. You can discover and compare these different models here:
Sea-Doo Spark 3UP
When it comes to the Sea-Doo Spark 3UP, these models are available exclusively with the 90 HP engine option.
It has a slightly longer hull (120″ length) and a bigger seat with 3 rider capacity, which is comfortable for two adults and a child in reality. This model is slightly heavier but still weighs only 421 pounds.You can discover and compare this Sea-Doo Spark 3UP with other models here:
For a better comparison, we've collected the current Spark models specifications and performance specs into separate charts. Let's check them one-by-one!
Sea-Doo Spark Dimensions and Weight
You can compare the different Sea-Doo Spark model's dimension and weight specs in this chart below:
As we've mentioned, all Sparks are manufactured with the same hull (110″), but you can find a 10″ long Extension Platform on the Spark 3UP, which extends this model's length to 120″. This also means the height (41″) and width (46″) of all models are the same.
The differences are more recognizable in these pictures below. You can see the 3UP's Extension Platform as semi-transparent: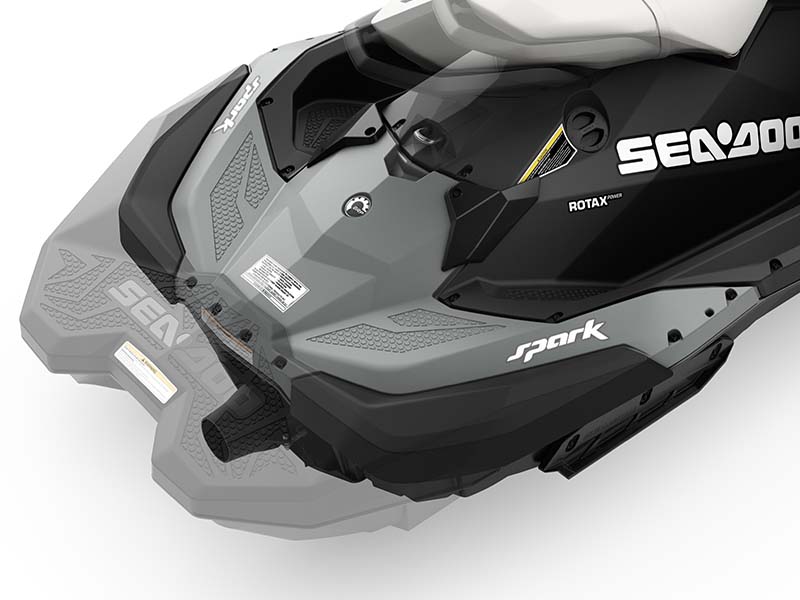 You can also recognize that the seat is longer on the 3UP, which means this model has 3-rider capacity. If you find this basic seat a little uncomfortable, a more convenient "Sea-Doo Spark Comfort Seat" is available as an option.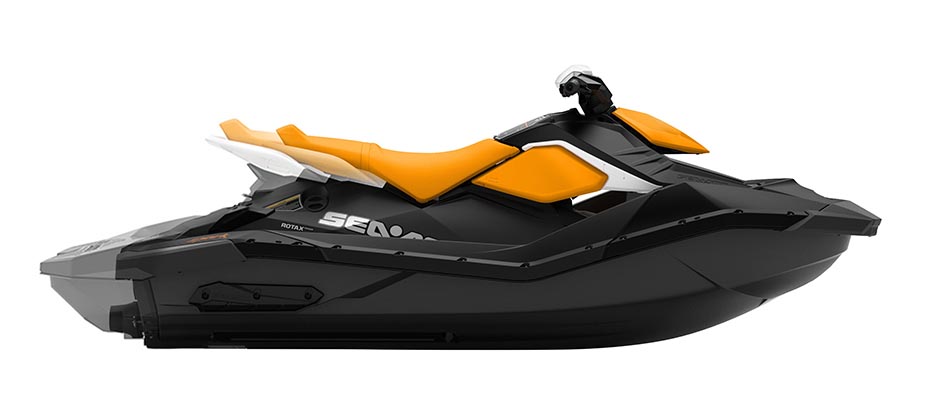 Sea-Doo Spark Durability
When it comes to Sea-Doo Spark's durability, there are many rumors and false information out there.
The root of the rumors is the fact that Spark's hulls are made of Polytec™. (Other watercraft are typically made of fiberglass or other similar materials). So let's take a short look at this topic as well; are Sea-Doo Sparks durable or not?
– What is Polytec? Polytec is a strong, recyclable, low density and durable composite material. Sea-Doo used this material first in 2014 to manufacture the Spark line, but since then, they released more models with Polytec hulls. This material is more lightweight compared to fiberglass, which means less curb weight and a better power- to-weight ratio.
– Historically proven: Sea-Doo Sparks have been on the market since 2014, and it seems the owners are really satisfied with them. You can find a huge fan base of Sparks worldwide, and this model is really successful in many competitions. If we look into the second-hand market of Spark, we can't see any significant differences in the depreciation rates compared to other models.
– Experts' opinion: Beyond the facts above, many experts say that Polytec hulls are durable and this is the future of the watercraft's hulls. After being criticized by a competitor, Sea-Doo released a funny video series to dispel doubts about the Spark series;let's take a look into the first labeled "Impact resistance".
Sea-Doo Spark Performance
Available Engines
Sea-Doo Sparks are available with two engine options: a 60HP (900 ACE) as well as a 90 HP (900 ACE HO) power source. Both of them are a 4-stroke, 3-cylinder, 899cc Rotax engine, cooled with a closed-loop cooling system.
These units are naturally aspirated engines, which means you can't find any supercharger in them. Thanks to their small size and moderate performance, these are currently the most fuel-efficient PWC engines on the market.
The 900 ACE engine provides 60 HP, so you can expect as low as 2 gallons per hour fuel consumption,while the 90 HP version burns around 2.4 gallons per hour at full throttle.
Performance
As you could see in the second paragraph of this article we've collected the main engine and performance specs for you in a chart.
With the 60 HP engine you can expect 42 MPH top speed, while the acceleration time from 0-30 mph is 3.6 sec.
The 900 HO ACE is the more powerful option to your Spark at 90 HP. With this engine option, you can expect your Sea-Doo Spark's top speed to be around 50 MPH. While the acceleration looks better, you can reach the speed of 30 MPH in 2.4 seconds.
Both engines are cooled with a closed-loop cooling system, which is unique in the PWC industry.
With this moderate top speed, Sea-Doo Spark is not the fastest Sea-Doo model on the market of course, but don't forget that on the water 50 MPH is a really good top speed!
iBR and Convenience Package
Does the Sea-Doo Spark have reverse? – This is a typical question of many buyers.
The good news is yes, Sea-Doo Sparks have reverse, which is called iBR (Intelligent Brake and Reverse System). However, it has to be mentioned that it's available as an option, which means not every Spark model arrives with brakes by default.
With this iBR system, you can start the Spark in neutral, and you switch between forward and reverse modes easily from the handlebars. As it includes a braking system, you can stop your watercraft in a much shorter distance with this feature.
You make good use of iBR during the docking process as well:
The iBR system is not essential, but it makes the whole riding experience better and safer. So especially if you are a beginner, it's highly recommended to choose your Spark with iBR. Keep in mind that without iBR, you can only go forward with your Spark, and there is no brake either!
Please note that while the iBR is a standard feature on the TRIXX, for the other Sea-Doo Spark models, it's just an available option.
What is the Sea-Doo Spark Convenience Package?
If you purchase your Sea-Doo Spark with iBR, a convenience package will arrive by default along with it. The convenience package includes the re-boarding step and the extra 7.42 gallons front storage.
The reboarding step is a nice addition, as you can get back on the Sea-Doo much easier from deep water after a fall. You will find it useful especially if you like swimming or doing watersports regularly.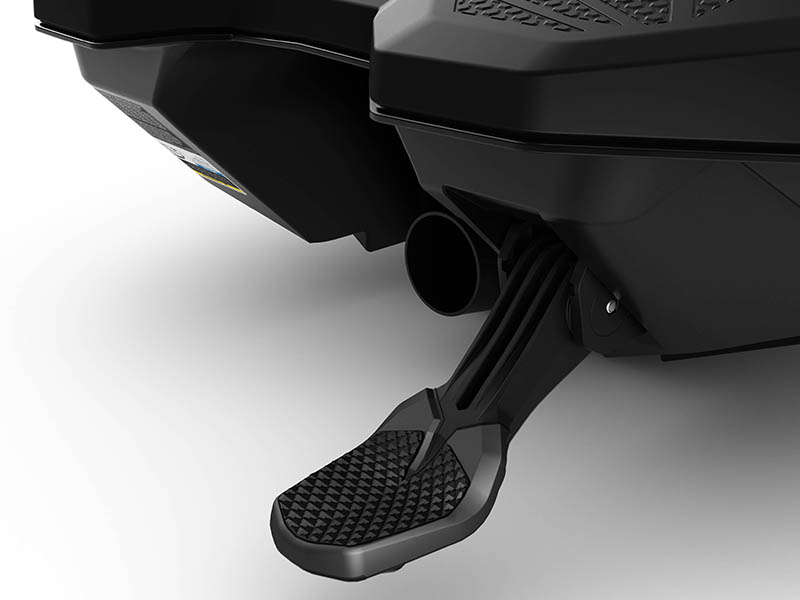 The other item in the convenience package is the front storage.
If you look at the Spark, it could be strange at first as there is a remarkable hole in the front of the watercraft. In fact, this hole is the place for the front storage bin!
Installing this storage unit doesn't only make the Spark look better, but you get an additional 7.42 gallons of extra storage space!
It's a really useful extra, as the basic storage space is just a smaller glove box, which means only 0.42 gallons. What's more, this large storage's usability is much better compared to the competitor model's separated smaller storage bins:
Available Extra Additions
Sea-Doo Spark Speaker
The new Sea-Doo Spark speaker is a unique portable Bluetooth sound device that is available for the Spark and Spark TRIXX models as well. It comes with the following features:
– Waterproof audio system (50 watt)
– Bluetooth connectivity
– Lithium battery (rechargeable)
– Quick-attach connector: You can mount it easily
– Song and volume adjustment on the speaker
– Front positioned and mounted toward you
Drawbacks?
Mainly the price, as this speaker arrives with a really hefty price tag. If you are looking for a more affordable PWC speaker, don't miss our latest post about them!
Other Additions
Beyond the sound system, there are several good additions that are available for the Spark series. Some of these are:
– Covers
– Comfort seat
– Mirrors
– Wind deflectors for handlebar
– Colored handlebars
– Docking accessories
– Graphic kits
– Electrical additions
– Extra storages and dry bags
– Coolers, extra fuel cans
– Performance upgrades
– Trailers and trailer accessories
– Watersport accessories
– Utilities (safety kit, etc.)
You can learn more about these additions and the unique LinQ system at Sea-Doo's official site.
Is the Sea-Doo Spark Good for You?
Sea-Doo Spark is a unique and great PWC, and could be a really good choice for many PWC enthusiasts. On the other hand, it's definitely not for everybody. As one of the main takeaways, we've collected the strongest points as well as the drawbacks of Sea-Doo Sparks.
When to Choose the Spark
– Budget: If you operate on a budget, the Spark would be an excellent choice for you. It's not just the most affordable watercraft on the market, but comes with the lowest maintenance costs as well.
– Storing/moving issues: You may find the larger watercraft models (600-100 lbs) too heavy to handle easily.If the weight is an issue, the lightweight Spark models are for you.
– Trailering: If you have a smaller car, trailering could be another problem. Sparks, even with the trailer, have moderate weight so you can tow them with a smaller car easily.
– Storage on boat: Looking for a watercraft as an addition to your boat? Sparks are generally a good choice as they are small and lightweight. This means you can store them on a smaller boat's swim platform.
– For beginners: Due to its small size, weight and price tag, the Spark (with iBR) could be a great choice for beginners. But it's good to know that there could be some drawbacks as well if you choose Spark as your first watercraft.
– Fun factor: Sparks bring back the feeling of the small and flexible vintage watercraft. It means you can expect a lot of fun on the water!
– Customizable: If you like to customize your watercraft, you can choose several features and color options if you go with a Spark.
When not to Choose the Spark
– Need for speed: If you are a speed junkie and looking for the fastest watercraft on the market, you should look into the Performance and Luxury/Touring categories instead, as Sparks offer only 42-50 MPH, depending on the engine options.
– More passengers: If you have a bigger family or would like to take more passengers on your watercraft regularly, you'll be more happy with a 3-seater model with a larger hull.
– Towing: However,while a Sea-Doo Spark can tow a wakeboarder or tuber, if you prefer watersports a Sea-Doo Wake Pro or Wake 170 could be a better choice for you.
–PWC  tours: Spark is definitely not the best watercraft for long tours. Its seat is not the most comfortable and the other issue is the lack of space for storage and passengers.
-PWC fishing: If you prefer fishing with your PWC, you should take a look at Sea-Doo Fish Pro instead of the Spark series.
FAQs About Sea-Doo Sparks
There are many frequently asked questions about the Spark series;we've tried to collect the most common for you in this post with the answers as well!
What is a Sea-Doo Spark?
Sea-Doo Spark is a Rec-Lite PWC family manufactured by BRP (Bombardier Recreational Products). You can discover and compare all new Sea-Doo Spark models here.
Is Sea-Doo Spark 4-stroke?
Yes, all Sea-Doo Sparks are powered with 4-stroke, 899cc, 3 cylinder Rotax engines. These power sources are cooled with a closed-loop cooling system that is unique in the PWC industry.
How much horsepower does a Sea-Doo Spark have?
Sea-Doo Sparks have 60 or 90 HP depending on the model. The Spark 2UP is available with 60 or 90 HP engine options, while the Spark 3UP and Spark TRIXX series are manufactured with the 90 HP engine exclusively.
How fast does the Sea-Doo Spark go?
Sea-Doo Sparks can go as fast as 48-50 MPH with the 90 HP engine option, while you can expect 42 MPH top speeds on the Sparks powered with the 60HP power source. However, the top speed depends on several factors like curb weight, weather conditions, and many others.
Where do you put gas in a Sea-Doo Spark?
You can put gas in a Sea-Doo Spark under its seat. Remove the seat first, then you can locate the fuel tank cap that can be removed if you unscrew it counter clockwise. You can see the whole process in this tutorial video:
How many gallons of gas does a Sea-Doo Spark hold?
The Sea-Doo Spark's gas tank is 7.9 gallons in every model. Although it's significantly less fuel capacity compared to the bigger PWC models, Sparks are super fuel-efficient, so you can expect better gas mileage on these models!
Are Sea-Doo Sparks good?
Many buyers are wondering if Sea-Doo Sparks are good or not, and are they worth the money. The good news is yes, Sea-Doo Sparks are really good; that's why Sparks are among the best-selling PWC models year after year!
How do you drain water from a Sea-Doo Spark?
You can drain water from a Sea-Doo Spark easily by removing the two drain plugs in the rear side of the hull. Just make sure you put them back before you hit the water again, as missing drain plugs are the leading reason for sinking PWCs!
Sea-Doo Spark For Sale
Based on the above, you can decide whether or not a Spark is right for you. Once you've decided to purchase one you may ask: "Where can I find a Sea-Doo Spark for sale?"
The first and most important step is to decide if you are looking for a new or used one. If you are looking for new models, there are several good Sea-Doo dealerships nationwide to choose from.
If you prefer a used model, the good news is that several good used Sparks are available on the second-hand market. We can recommend starting your research at PWC Trader or Ebay, but if you are lucky, you can find a nice second-hand Sea-Doo Spark for sale on Craigslist as well.
Before you purchase, make sure you've checked our used PWC buyer's guide to avoid the most common buyer's mistakes. And don't forget that timing is also important when it comes to watercraft purchasing.
Conclusion
Sea-Doo Sparks are amazing and unique watercrafts, but they are definitely not for everybody.
These PWCs have small and nimble hulls, and really affordable price tags. On the other hand, Sparks have a really limited storage and weight capacity, and their performance is moderate.
Anyway, if you are a beginner, a Sea-Doo Spark could be a good choice for you. But before you make your final decision, it's definitely worth taking a look at the competitor models like Yamaha EX.
You can try out these models at demo rides, or even in a watercraft rental service. If you start with renting, don't miss our PWC rental guide to avoid many rental's unethical tricks.
This was our Sea-Doo Spark review; we hope you found it useful!
_____
Related Articles:
Sea-Doo Spark vs. Yamaha EX Comparison
DISCOVER 2023 PWC MODELS Kawasaki, Sea-Doo, Yamaha, Krash…